NYC hasn't seen such a clash since the days of the Five Points riots. Saturday's street fight in Rockaway took to the waves for the second annual Five Borough Surf Challenge sponsored by Seven Tiki Rum.
The Challenge is somewhat of a celebration of the vibrant surf scene that has grown (for better or worse) out of NYC in the past few years -- full city dwellers who live and work within the five boroughs and play on the surrounding beaches.
Each of the five boroughs -- Brooklyn, the Bronx, Queens, Staten Island, and Manahattan, comes out to rumble with a five-man surf team of wave slayers that live within each borough. The event was held on Saturday, at B85th St. in Rockaway, which is part of Queens.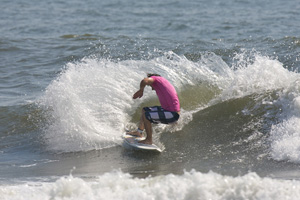 "As New York City's only surf contest, each borough had to show up with their best teams because there is a strategy involved, and usually these types of team events come down to the last minute," said Nick Romito.
Romito is originally from New Jersey, where he was a top am competitor. He now lives in the city and is the Manhattan Team Captain as well as event organizer.
"It is by far the coolest beach experience in New York City," he added.
There are a few sideshow freaks at Coney Island and East River fly fishermen who may beg to differ, but it is a legit event within the city limits.
Saturday enjoyed a little one to three-foot bump courtesy of a weak low pressure system that passed off the coast. Team Brooklyn, repped by Johnny Knapp, Juan Heretia, Jason Deodato, Aaron Mindell, and Mario Cubillos won, thanks to the ripping of Heretia.