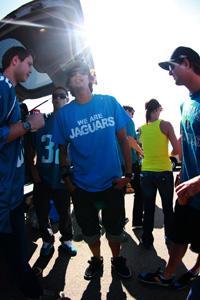 Well, apparently, not every East Coaster was chasing Hurricane Igor around last weekend. There was a solid crew of Floridian talent that put pigskin over pits. If you'll notice from the Igor Gallery, there are no shots of Asher Nolan in Florida, Long Island, or S-Turns. He and his buddies were in San Diego rooting their beloved Jaguars against the Chargers.
Both Jacksonville (including St. Augustine) and San Diego are good sized cities on the ocean, hence they both have some serious football fans. And obviously, Southern California and Florida are both known for their gridiron heroes as well as waveridres.
The Northern Florida guys are especially rabid fans. Some bars on the North Shore open early in the morning so the East Coasters can watch their team live. In 2007, Gabe Kling was even named an honorary Jacksonville Jaguars captain.
Then there's Chargers center, Nick Hardwick, who surfs Pt. Loma. If you take into account that most Hawaiians love the Chargers and they are the home team of the largest waterborne population in the country, this was really the Super Bowl of the surf world.
This year's Chargers/Jags game was especially well attended by surfers from all over, as Hurley scored tickets to the game for all the surfers in last week's ASP event at Trestles. There are photos of Kelly Slater, Rob Machado, the Hobgoods, Andy Irons, and friends at the game here. Pat O'Connell, Machado, Taylor Knox, and Damo actually got onto the field. Of course, Kling snuck over to the Jag's sideline.
But the big party was in the parking lot, as dozens of Florida surfers had flown to the West Coast to watch the Hurley Pro and then the big AFC match up. Among those enjoying the raucous tailgate festivities were Nolan, the Dodson brothers, Ryan Briggs, Brandy Faber, Jimmy Wilson, and Zander Morton.
The San Diegans are pretty hearty supporters as well. Not only did Encinitas ripper, Scotty Hammonds crash the tailgate party, but Ricky Whitlock was rooting his boys on as well. In fact, two weeks ago, I spoke with Whitlock about his new board art. Check this out:
The Chargers smoked the Jags, 38-13.