Two years ago, when a crew of local hustlers decided to bring a surf film festival to New York City, there were a lot of doubters. Where there really enough surfers in and around NYC who wanted to see three days worth of big screen surf stories?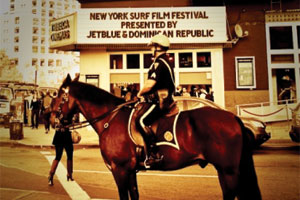 Considering how quick these films sell out, the answer apparently is yes. Those doubters are the same people who say "there's no waves in New York."
Oh, yeah? Wait until you see the Hurricane Igor gallery, later this week. And you know there are some quality flicks here when Manhattan film buffs who don't even surf are drawn to these projects.
Even if the Village Voice has yet to catch on, the New York Surf Film Fest is looking strong this weekend with most of the best films and film makers -- local and from around the globe, of the last year.
This weekend will feature "Momentum" by Taylor Steele, now a classic throwback favorite. One of the most interesting films this year will undoubtedly be "The Westsiders"
Growing up ain't easy. It especially wasn't easy for a notorious crew that grew up on the West Side of Santa Cruz in the 80s and 90s. Drugs, broken homes, and violence were a formula for a very heavy upbringing. But three of the icons of Santa Cruz lived through it, in Daryl "Flea" Virostko, Shawn "Barney" Barron and Jason "Ratboy" Collins and came out stronger on the other end. I had a chance to talk with filmmaker Josh Pomer on release of the film.
When all is said and done and the audience has seen this film, what do you want them to take from it?
I hope that people from all walks of life see "The Westsiders," because it's a film about universal themes -- love, loss, and forgiveness. We came from broken homes and we made bad decisions, but we always believed that if we stuck together and formed our own family that we could survive. "The Westsiders" is a story-driven feature film narrated by Rossana Arquette (Pulp Fiction) with music scored by Mike McReady, Art Directed by Mike DeNicola, and Executive Produced by Brian Hirrell. I had a full team that helped fulfill my vision. I hope that it comforts as well as inspires viewers to follow their bliss.
Has this film helped to heal some of those old demons for the crew?
Everyone in the film is sober now. It's amazing that the making of "The Westsiders" film was a catalyst for The West Side of Santa Cruz cleaning up. But Flea (Virostko) is really the person who is most responsible for helping our friends clean up. The film is like a mirror and sometimes when you look in the mirror, you don't like what you see. It makes you take responsibility and deal with some tough choices.
There's no way to tell this story without incriminating, embarrassing or angering someone. What was some of the push back?
Everyone in the film revealed their struggles and trusted me with their stories of pain, success and conflicts. I am so proud of this film and honored to be able to tell the stories of my best friends. I have to thank the city of Santa Cruz and the families and people in the film who share their lives so openly and honestly. Any good film should bring up conversation and controversy. This film does both and the push back has been hard at times, but I knew it wasn't going to be easy.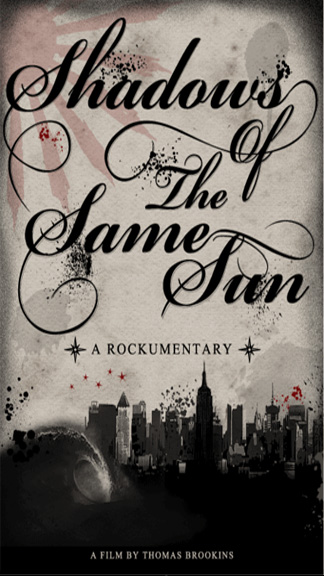 Here is the complete schedule of the 2010 New York Surf Film Festival:
Friday, Sept. 24
7 p.m.
"Shadows of the Same Sun" by Thomas Brookins
"Ocean Monk" by Sanjay Rawal
"Pipeline East Surf Club" by Shari Smith Dunaif
Q&A with Thomas Brookins
7:20 p.m.
"Stoked and Broke" by Cyrus Sutton
"Getaway" by Joseph Gallagher
"The Planing Totem" by Richard Kenvin
Q&A with Cyrus Sutton
"Idiosyncrasies" by Patrick Trefz
with live musical performance by Undersea Poem during the screening
8:30 p.m.
"Lino" by Karim Rejeb
"Get Sweet" by Rosie Sutherland
Q&A with Patrick Trefz
9:10 p.m.
"Echo Beach" by Jeff Parker and Stefan Jeremias
"Cooperative Sailor People" by Dustin Miller & Ty Williams
"3 Slobs" by Jeremy Asher Lynch
Q&A with Stefan Jeremias
10:20 p.m.
"180 Degrees South: Conquerors of the Useless" by Chris Malloy
Q&A with Jeff Johnson & Timmy O'Neill
10;45 p.m.
"Thrills, Spills and Whatnot" by Dustin Miller
"A Brief History: Terry Martin" by Tyler Manson
"L'Apertif" by Pandora Decoster
Q&A with Dustin Miller
Saturday, Sept. 25
5 p.m.
"Fiberglass & Megapixels" by Derek & Craig Hoffmann
"Darkside of the Lens" by Mickey Smith and Allan Wilson
5:20 p.m.
"Being Captain Zero" by Ama MacDonald
"Hawaiian Punch" by Greg Weaver & Spyder Wills
Q&A with Ama MacDonald
6:30 p.m.
"Dark Fall" by Alex DePhillipo
Musical Performance by Chris Arena
Q&A with Alex DePhillipo
7:20 p.m.
"Scratching the Surface" by Matt Beauchesne
"Protect our Waves" by Richard Stewart
8:40 p.m.
"Westsiders" by Joshua Pomer
"Untitled" by Johnny Abegg
Q&A with Joshua Pomer
9:05 p.m.
"Keep Surfing" by Bjorn Richie Lob
10:30 p.m.
"Momentum" by Taylor Steele
"Cypher Vision" by Jamie Tierney & Taylor Cotton
11 p.m.
"Dark Fall"
Q&A with Alex DePhillipo
Sunday, Sept. 26
2:30 p.m.
"God Went Surfing with the Devil" by Alexander Klein
2 p.m.
"Somewhere Near Tapulchula" by Jonno Durant & Stefan Hunt
"Tarp Pits" by Cyrus Sutton
Q&A with Jonno Durant
3:45 p.m.
"Shadows of the Same Sun" by Thomas Brookins
"A Short" by Doug Parent
"Monsterboards" by Matthew McGregor-Mento
"Insane Dane" by Charlie Smith
"Ocean Monk" by Sanjay Rawal
"The End is There" by Moose Huerta
"Modernist Basque Surfing" by Xabier Zirikiaian & Ikor Oker
"Shaping a Life" by Denise Galvao
Q&A with Thomas Brookins
4:45 p.m.
"Gun Ho" by Bud Browne
Tickets can be purchased here.