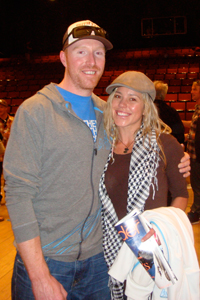 Saturday night marked the official start to the approaching winter in Jackson, Wyo., with the world premiere of Teton Gravity Research's "Light the Wick." This year's film, screened at a packed Walk Festival Hall, featured the ski film industry's first attempt at a 3D segment and the debut of a new zone in Alaska. The opening compilation of shots, accompanied by athlete dialogue, was impossible to hear over the screaming crowd.
The most riveting big-mountain segment was shot in Petersberg, Alaska, a remote fishing village that's never been explored by skiers. Daron Rahlves, Seth Morrison, Dana Flahr and Ian McIntosh attempted ski descents of the Devil's Thumb, a massive and famed peak that's seen fatalities in the past. "Because of the history of that mountain ... It makes you feel you're just lucky to make it down without incident ... a feather in the cap," Seth Morrison said.
A Jackson Hole powder segment was met with another deafening chorus from the crowd. Shouts also accompanied the appearance of the film's only female skier, Rachael Burks, whom it sounds like the audience wants to see more of. "I wish there had been a little more snow and safer avy conditions when we received snow," Burks said at the premiere. "It's hard to put together something worthy of a TGR film when the elements don't cooperate. I'm capable of more."
In the 3D segment shot at Stevens Pass, Washington, it looked like Sammy Carlson, John Spriggs and Byron Wells were throwing tricks out over the theater seats. Other highlights from the film included Sage Cattabriga-Alosa hucking over crevasses and tree skiing in out-of-the-way European spots like Croatia. After the show, the crowd took the cheering and stoke over to the Mangy Moose, to listen to Sister Carol's reggae show and wait for winter.