On Friday night, more than 6,000 people soaked in the glow of the Denver skyline for the inaugural Snowboard on the Rocks, a showcase of musicians and snowboard films, at Red Rocks Ampitheater. London Dungeon, Del the Funky Homosapien and The Cool Kids dropped beats between a triple screening of the season's latest snowboard flicks. Denver-based Never Summer premiered "Made in America," a full-length film honoring its local roots and homegrown riders. Only one of Think Thank's two-part film, "Right Brain, Left Brain," debuted, and the world premier of Standard Films' The Storming captured shiner parts from Torstein Horgmo and Xavier De La Rue, and featured a heavy-hitting ladies segment from Hana Beaman, Erin Comstock, Leanne Pelosi, Reawyn Reid and Kimmy Fasani.
Unlike other premiers this season, snowboarding wasn't the main event. Snowboard on the Rocks brought together multiple interests to celebrate a common lifestyle. "I've done a lot of events that combine different art forms like music and snowboarding, and I thought it'd be sweet to bring the community of Colorado together before the season starts and stoke the excitement on a local level," said Pat Milbery, co-founder of Snowboard on the Rocks.
So people like 18-year-old Chase Ryan, a student at Western State College, or Kenny Rzonca, 19, from Boulder, Colo., found themselves sharing the same excitement for different reasons. "This is my first time at Red Rocks. It's really interesting how this came together with artists and snowboarding," said Ryan. "The Standard film was definitely the best, but seeing Del live was great."
"I'm pumped for this winter," said Rzonca. "All the celebrities and The Cool Kids came out to just kick it with us. I love how real they are."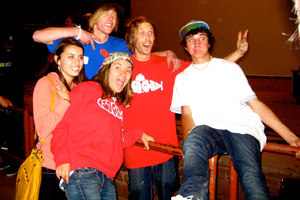 "As a pro, it's our responsibility to bring snowboarding to a local level. People want to be a part of something new," said Milbery. "We wanted to encourage the lifestyle, not just the sport, so we chose a concept that would bring everyone together without segregating age or other barriers."
Red Rocks is frequently booked with internationally known musicians and supported by corporate financial backing, often turning away independent festivals. But the idea of Snowboard on the Rocks quickly outgrew any Denver options. To drive the awareness of a progressive independent event, Milbery enlisted the support of friends, sponsors and street-savvy marketing tactics. "With the help of friends, we were putting banners up on freeways, hitting up the web community and I personally distributed about 60,000 flyers," recalled Milbery. "This was a new concept and a massive venue. All the event producers came to the table with different skills. Ultimately that fueled us to really push the limits of an event like this."