Never one to mince words (or meat), Swiss super-pro Nicolas Müller is always as interesting to check in with as he is to watch ripping up some AK spine garden. ESPN Snowboarding caught him in between snowboard trips to discuss powder pleasantries, winter-in-summer, self-sufficiency, his new house, and the relaunch of his Arcus streetwear label as "Atreebutes." A few things remain certain: Nobody tweaks their Japans like Nicolas and nobody's more down to earth in the ways that really matter. Who knew that someone so inspired could be so inspiring?
ESPN: Where did you just get back from?
Nicolas Müller: I was in Mt. Cook, Mt. Aoraki in Maori, South Island NZ. We were shredding the first 2012 Burton boards and bindings and shooting photos with Jeff Curtes for the 2012 Burton Dealer Catalog. Basically having a little winter in the summer...
What kind of terrain were you guys riding?
We had the pleasure of going heli-boarding for a few days. The terrain is straight-up just untouched backcountry. There's pretty much everything from extreme big mountain runs, mini golf short and steep lines, to natural wind-lips to bust off or even beautiful routes through glaciated areas. And I had the pleasure to share these unforgettable moments with teammates Kazuhiro Kokubo and Stephan Maurer.
We wanted to ask you about your relaunch of Arcus as Atreebutes. Tell us how long Arcus was around, what happened, and what you're trying to do with the new brand in the next few years.
Arcus was the streetwear label I started back in 2000 with Burton teammate Frederik Kalbermatten, born and raised in the pearl of the Alps, Saas Fee, and a few other friends from Zürich. What started out as a T-shirt label soon was catching on much more attention than we'd hoped. After the first few years of selling our stuff directly to the shops in and around Switzerland, we soon needed some help from people who knew more things about that business, such as production and distribution. Long story short ... even though on a global scale we were very small, after 10 years it has become a bit out of hand. We weren't prepared for the business it grew into, and important things like trademarking names and logos were never really dealt with. Now we were facing a very important question: Should we keep going and risk everything or just start over, take the good fruit along and leave the failures on the way? The decision was clear and here we are.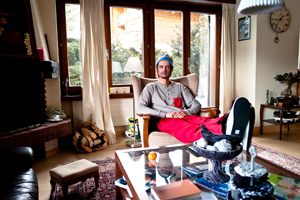 Any special significance to the name Atreebutes? Sounds suitably organic and Müller-esque.
We were pretty stoked on Arcus, but we had to move on after realizing that the name Arcus was trademarked by a French shoe company. We had to come up with a new name, which is never easy. Fredi actually came up with "Atreebutes." It's a fantasy name obviously, combining "attribute" and a tree. It grew on all of us since it should be about our attributes, and with the sustainable way of running and living it, a tree is worth mentioning.
The company we founded behind the brand that runs it goes by the name of Likemind ltd. We thought the name is very appropriate since we are involving as many different personalities and artists [as possible], like fashion and graphic designers, producers and all-around creative forces like Martin Luchsinger who basically created our whole outlook and presentation of the brand and the first collection. Since his background is film and editing, he had the idea of an entirely knitted booth for the tradeshows and to also use it for the look-book shoot and a little teaser for the website.
Yeah, that video is nuts. Have you figured out how to do a powder slash shaped like a swoosh yet? I know that was one of your goals after getting on with Nike. I bet it's harder than it looks.
You know what? It's just like with a lot of things in life. If you try too hard it just doesn't quite get to you. You leave in the room and up to another force, it often comes to you as easy as it gets. Andy Wright, staff photographer of Nike Snowboarding has the proof.
So you bought a house in Laax, Switzerland. Tell us why you chose that house and that spot and how it's working out for you.
Yes, absolutely loving it. I had saved everything I ever made in my life to buy a house. Since Switzerland only has proper real estate and the market prices are almost double of the actual value it was a big step. Looking forever in different areas, online at first and then driving and getting bummed, it was like love at first sight. I grew up near Zürich but have always loved the mountainous region of Laax and the neighboring Flims. It's where I started to feel it in snowboarding; the roots of my snowboard career. I can walk to the tram in 10 minutes through a forest, it's quiet, and the air is fresh. In the summer it is as amazingly beautiful as in the winter time. There's this lake called Caumasee, and I have realized [that except] for waves I don't have to go anywhere anymore.
Will owning a house force you to stay home a little more or are you still traveling like crazy? Sick of it yet?
Oh it most definitely helped me to stay at the spot; I had the hardest time to pack and leave once it was time for it again. This past season I spent all winter till mid-March at home. Just riding any day: sunny, grey or stormy! Good times, and it reminded of where I am coming from as a snowboarder. I might do a TV show based around staying local and see what happens. You know: cook my own food, no driving or flying, and riding with friends that aren't necessarily high-ranked pros. "Stay-cation" style and showing that it's possible to have maximum fun at your local mountain.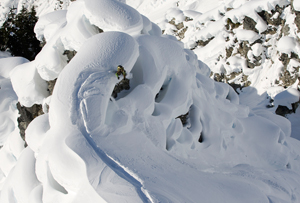 Now that everyone's an environmentalist, do you ever think about reinventing yourself as, like, a Swiss Super Redneck or maybe something more in the style of Norwegian death metal fans?
Yeah, [laughs] like totally against the grain. Start eating meat again, buy the heaviest oil-sucking car and sleep with the TV on all night. Fully disconnect from where I am at and try to put as much garbage on the street as possible. No way, but I am concerning to participate in a lumber (tree cutting) seminar, to learn how to handle a chainsaw and how to cut wood properly.
I will never kill a tree, but if s--- hits the fan I will have a chainsaw and can chop wood from fallen trees behind my house. Just thinking ahead, wanna keep my family warm and safe, you know?! But seriously, it's nice to see the conscious level grow amongst humans. The next step would be to keep in mind that there's a whole world out there in the ether. And that it is as important and a part of us like our soul is a part of our human body experience.
The Olympics have gone away for another cycle, so what do you think snowboarding can look forward to in 2011?
The technical level is definitely progressing like crazy and, from my side, I can say the spirit is in it to win it. Each and every one of us can do their thing on a board and together we are "Snowboarding 2011." Let's enjoy it but not forget where we came from. It's the silence when the snow falls and not the noise of a man-made snow gun. I am excited to see where the kids are bringing it to at all the amazing TTR Events. My guidance saying for next season is going to be something like: "Mandatory free run in the beginning and at the end of the day. Peace, warm light, and wisdom to y'all!"