On Wednesday, September 15, 2010 at 8pm Eastern, the first Street League contest event will air on national television on ESPN2. Though two events have already happened live, this will be the first time ever that world at large, mainstream sports fans and skaters not lucky enough to leave near one of this year's three Street League stops can view the extensive action. On the eve of the broadcast, I caught up with Street League mastermind Rob Dyrdek to get his perspective on how TV completes his vision.
So you've gotten two of the Street League events out the door but Wednesday, September 15th will be the first time that world at large will be able to watch the first Street League contest on ESPN2.
The reality of it is Street League is an exciting program. It comes down to the wire and it's a whole new way for people to even experience skateboarding and I really think they're gonna enjoy it, man. I'm pretty excited.
Do you think the anticipation that the audience felt watching the contests live will translate well to the program on television?
I think it does. Just from running it and watching it, personally I feel like it translates way more in the television side because the commentating for TV is a lot more about the story and what exactly is going on. You didn't need as much guidance through the commentating as a spectator inside the arena since you were just on pins and needles to the edge since you were there. But with the commentating and the package of the show you'll see it in a whole different light.
So who are the commentators for the TV broadcast?
Me and Steve Berra.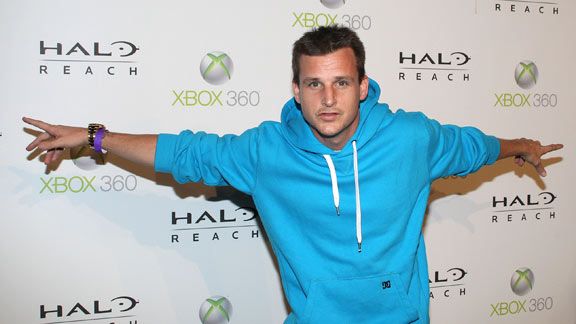 How do you think this program will translate for your run-of-the-mill sports fan that isn't familiar with the intricacies of skateboarding? They may not know the difference between a kickflip and a switch flip but, presumably, the ISX instant scoring can help them to understand that one is more difficult than the other.
Absolutely! And that's exactly what we set out to create, where you can follow it like a regular game. You watch three quarters of a basketball game just to see who wins at the end of the fourth. That's what we deliver. The way the contest is set up, it just ramps up into absolute insanity to the end. And I really think your average sports fan can connect with it. Before this, its' been impossible [for your average sports fan] to engage all the way because at no point before this did every trick matter down to the very last one. It's that curiosity. My expectations aren't super crazy. Our commercials are intended to make that crossover sports fan laugh a little bit to bring them in and hopefully engage them to at least check it out.
What do you think the evolving storylines will be throughout the three events as each one comes out on television?
Man, you know what? I think more than anything it's the reality of how incredibly tough these contests are to win and how incredibly tough it is just to make it into these seven man finals. Every trick truly counts. It's watching some of these guys not be able to handle the pressure and watching a skateboard buzzer beater. It's the cold, hard facts that these contests come down to the wire and I don't know if it's straight up luck but we've had back-to-back buzzer beaters in these first two contests. It's is the reality of having no idea what to expect. I can't even fathom what's going to happen at this last one in Vegas.