Kauai's Dylan Goodale had a great introduction to New York yesterday. Standing on the beach after he'd just put on a blistering backside display to blow Jacob Halstead, Andrew Doheny and Taylor Thorne out of the water in Round 2 of the Nike 6.0 Pro Junior at the Unsound Pro in Long Island, a well-exposed woman approached him.
"This kid has gawt it," she said anyone listening, "You need to be a model."
Her accent was straight out of an Edward Burns movie. Despite her dress and obvious surgical enhancements, she was likely 25 years his elder.
"I'm just a nice girl from the Bronx honey. I worked in the fashion industry for a long time," she told him, "and you have gawt it."
Goodale was taken aback, and the woman persisted. She began reciting her personal resume, complete with name drops, appearances in men's magazines, and her fashion background.
Eventually, Goodale started egging her on, and it got hysterical. Welcome to Long Beach, kid.
Goodale and the assembled cast of top ASP North America juniors were surfing the biggest junior event in the country yesterday. Nike decided to go full bore with a $20,0000 Grade-4 event in the shadow of the Big Apple. Yesterday was the first day of the waiting period and the event ran ten hours through completion to take advantage of the one to three-foot swell.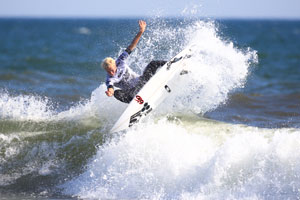 The finals featured Kolohe Andino and Nat Young, and could very well have been a preview of a 2014 ASP World Tour heat. Andino, of San Clemente and Young, of Santa Cruz both showed so much polish and professionalism, surfing through five straight heats each.

Local host, Balaram Stack had a brilliant day as well, with precision slashes and fins free blasts. Stack has been the poster child of the Unsound event since somewhere around third grade. He tore up the first round and mowed down Cal and Florida boys all day. Eventually, he met Andino in the quarters and his day came to an end. But Stack's got plenty to do this week as the Unsound Pro gets started when the swell picks back up.

Most of the field arrived on Tuesday with hopes that the hurricanes they'd been hearing so much about would deliver. Friday and Saturday in Long Beach looked like some dreamy French beachbreak. Instead, a passing front bought hard onshore gusts and a local windswell that lasted through Wednesday. The wind eventually went side and then offshore by the finals. This morning the ocean looked like the East River. Good call running through.

Another giant performance was put forth by Virginia Beach's Michael Dunphy, who handled the previously No. 1 ranked junior, Evan Gieselman, of Florida in the quarterfinal.

After surfing a near-perfect day himself, including a victory over an in-form Conner Coffin in the semis, Young was put in his place by Andino in the final. Andino found the waves with scoring opportunity and blasted a buttery backside air reverse to combo Young.

Young had a late wave that bought him within respectable distance of Andino, but Andino claimed it 15.5 - 10.7.

The ASP also reshuffled things on the Junior level this year. The Nike Junior Unsound was technically the first event of the 2011 season.

Nike 6.0 Unsound Jr. Pro Final Result:
1 - Kolohe Andino 15.50
2 - Nat Young (USA) 10.70
Nike 6.0 Unsound Jr. Pro Semifinals Results:
Heat 1: Nat Young (USA) 11.93 def. Conner Coffin (USA) 9.67
Heat 2: Kolohe Andino (USA) 14.33 def. Michael Dunphy (USA) 7.44
Nike 6.0 Unsound Jr. Pro Quarterfinals Results:
Heat 1: Conner Coffin (USA) 12.00 def. Jared Thorne (USA) 6.67
Heat 2: Nat Young (USA) 16.40 def. Tanner Hendrickson (HAW) 8.16
Heat 3: Kolohe Andino (USA) 14.50 def. Balaram Stack (USA) 8.17
Heat 4: Michael Dunphy (USA) 15.34 def. Evan Geiselman (USA) 14.66
Nike 6.0 Unsound Jr. Pro Round of 16 Results:
Heat 1: Conner Coffin (USA) 11.86, Tanner Hendrickson (HAW) 9.03, Jacob Halsted (USA) 8.44, Dylan Kowalski (USA) 7.20
Heat 2: Nat Young (USA) 11.53, Jared Thorne (USA) 9.33, Dylan Goodale (HAW) 9.21, Keanu Asing (HAW) 7.64
Heat 3: Kolohe Andino (USA) 13.67, Michael Dunphy (USA) 11.03, Nathan Carvalho (HAW) 8.73, Gabe Garcia (USA) 7.76
Heat 4: Evan Geiselman (USA) 15.00, Balaram Stack (USA) 13.27, Luke Davis (USA) 11.44, Evan Thompson (USA)9.10