When Paul Rodriguez joined Nike SB, he was still in his teens and just stepping into a world of fame and fortune brought on by his overwhelming talents in skating. The first skateboarder in Nike's history to receive a signature shoe, Rodriguez's original pro models were flashy affairs full of the technical advancements and fancy materials Nike was able to bring to the table. Now a man in his mid-twenties, Rodriguez's tastes have changed quite a bit. His fourth pro shoe is a far cry from his earlier models. This shoe may be his most skateable model to date.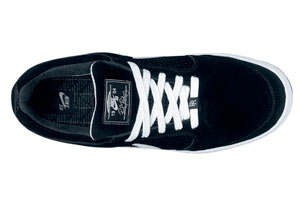 WHAT IT IS:
The P-Rod 4 still utilizes some of Nike's patented technologies to create a technically advanced, protective and durable shoe while remaining simple in silhouette with good flexibility and board feel. The sole uses Zoom Air technology -- Nike's slimline air bag that's been in each Paul Rodriguez design to date. A diamond-flex technology, which basically consists of laser-cut grooves in the shoe's sole, allows the cushioned sole to flex better than your average cupsole. "Mainly it's just a performance shoe," said Rodriguez. "I'm a skater and I made this shoe for skaters."
WHERE TO FIND IT:
The Nike SB site has a shop finder where you can type in your Zip Code and hone in on the nearest SB dealer. The site also features shops with longstanding relationships with the SB program.