Maybe you have heard his name in whispers. A passing phrase like "Wiley just sent that cliff!" Perhaps you have seen his name pop up on the screen of a TGR or a Level 1 movie. Either way the name Wiley was always memorable even if you couldn't quite place it. A grinder on the come up, yet — still laying low, under the radar, a stealth bomber on two planks.
Wiley Miller made his mark with a closing part in last year's Level 1 movie "Refresh" and 2010 looked to be a banger year until a brutal wreck in AK ended his season prematurely. Dreams crushed? Second thoughts? Anxiety about the future? Sure. But you have to remember last year: at Stevens Pass this guy crushed his eye socket and fractured both his heels on a park jump a day before Tanner infamously undid himself. Did he come back stronger? Yup. Can he do it again? No doubt - but there will be some hurdles.
This summer I caught up with Wiley to see what it's like to walk the fine line between disaster and fun. While most athletes want to put a big red ribbon on the highs and shun talking about the lows of their career he gave a real unabridged view what it's like to have those triumphant moments, the tragic downfalls and what it means to come through on the other side. This is the first of a three-part series that documents Wiley Miller's injury, recovery and comeback.
Home
I started skiing at a young age — Dad led me around on his ski pole when I was 4. Both my parents loved to ski so naturally it became a cornerstone of family vacations. I learned at a little spot called Red Lodge. Coming from Billings, Montana, there wasn't really a large amount of terrain to try new things so my brother Jeremy and I would just build little jumps around town on hillsides and try new tricks. Eventually the fam migrated up to Big Sky for the weekends. During the school week I would count the hours till Friday afternoon and the three and a half hour drive up to the hill. Jeremy and I would usually spend one day on the hill and another hiking around this little area called Beehive Basin building kickers and trying to learn new tricks.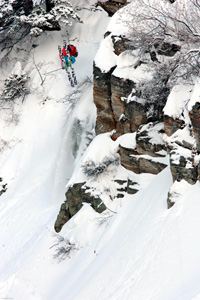 Getting My Start
In 2007 I weaseled into shooting with the Theory 3 media guys for their movie "[Photo]Play." I tagged along with my buddy Mike Hornbeck and just tried to get done whatever I could. I really didn't know much about the industry or how things worked. The video part I made that year got me a nomination for Breakthrough Performance at the Powder Awards. I didn't win but I knew I was on my way.
Matt Sterbenz, my team manager at 4frnt, had a connection with Josh Berman at Level 1 and he convinced him to give me a chance. I am sure Josh was initially bummed I got his number because I called incessantly about any opportunity to film. Little did I know, a few months later would end up getting a random phone call from Berman while I was in Missoula on vacation. My part in "Real Time" had made an impression and I won the People's Choice award for Male Performance of the Year at the International Freeskiing Film Festival. I was young. I was on a roll. Nothing could stop me.
Injury
Nothing could stop me — That all changed May 15, 2009 at Stevens Pass. My examination read like a police report from a car accident: A concussion, a fractured eye socket, and two fractured heels. It was right before The Hangover came out.
I remember watching it with one eye because the left side of my skull was so swollen. I looked like I went nine rounds with Tyson, and battled that gigantic cat. I felt like I was the one with the hangover. A surgically inserted titanium plate replaced my left orbital. The doctors slid it under my eye socket to access behind my eye. The plate is honeycomb porous so my body tissue can grow through it. So if you meet me and think I'm pretty mellow, just remember I have Terminator technology below the skin.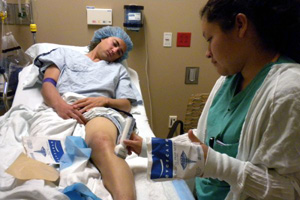 Walking on crutches and having my face half swollen gave me a lot to time to think. I wanted to be smarter about my skiing and the risks I take. It probably sounds pretty stupid to anyone who knows me and has seen some of the things I do.
2010 went pretty well. I explored some new zones, accomplished some new stuff and I headed up to AK to keep the exploration going. I spent all of that time planning and calculating but the reality is, in AK, anything can happen.
A miscalculated turn and a cartwheel wreck cut my season short and left me without an ACL. At first I did'ít want to believe it. I spent quite a while stuck in the denial stage of grieving. But when I came home and saw a doctor, my worst fears were confirmed. Almost a year to the day after getting crushed in Stevens Pass, I was back on the couch again. FML.
Frustration
I don't do well with down time. I'm a pretty active person — sitting around in pain is the worst. My brain runs around in circles deprived of the physical and mental release that using my body gives me. My moods swing back and forth like a pendulum. I can't tell if it's the prescription drugs, the lack of sleep, or just the enormous pain that hits like a tidal wave only to disappear back to the sea. This is the most pain I have ever felt in my life.
Everyone says I should feel better after five days; but it's been seven now and nothing has changed. It's a subtle blow to the ego to have my family and friends take care of me when I am so accustomed to doing things on my own. Simple things like walking down stairs or going to the bathroom seem so difficult. I can't remember the last time I had my mom help me off the couch to use the bathroom. I can see the concern in my parents' faces. I know they want me to follow my dreams but at the same time they are scared every time they see me laid up like this.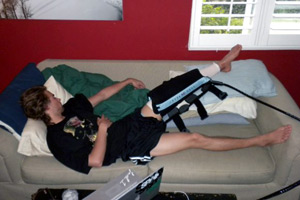 Times like these, I don't feel much at all like a "ski superstar." The aura is penetrated and I am simply Wiley. Another folder at the doctor's office. It's humbling but it helps me keep my head on straight. Injuries have a way of helping achieve clarity while the temptations of the ski lifestyle — parties, girls, drinking, travel — can keep you in the fog.
This summer may have been a bit of an involuntary time-out. But it also made me realize I am the referee. I hold the whistle and I can call the game as I see fit if only I can work through the pain. Do I want to be back on top of the mountains? Of course, I love that feeling and won't let anything take it away.