It's hard to believe, but it's been well over a year since Jeremy Lusk's untimely passing. And although he's not with us anymore, his memory continues to live on through the Lusk Legacy Foundation, the San Diego Hall of Champions sports museum, Metal Mulisha t-shirts, countless memorabilia items, and now his wife Lauren Lusk's clothing line; In Gods Hands.

Simply put, In Gods Hands is a promising faith-based clothing company that honors Jeremy and promotes inspiration. Here's an excerpt from their mission statement:

"In Gods Hands is a clothing line inspired by the endless pursuit of hope and eternal happiness. Created by Lauren Lusk, IGH honors the memory of her late husband Jeremy Lusk, a freestyle motocross legend who constantly exuded love, faith and loyalty to everyone he touched. In Gods Hands' mission is to inspire all to promote faith, hope and love. IGH supports their mission by donating a portion of proceeds to families in need."

I contacted Lauren Lusk to find out more about her new venture, what it's all about, and where she sees it going in the future.


ESPN: So, I actually just heard about your new venture by word of mouth through my boy Beau Manley. Can you tell me about what you have going on?

Lauren Lusk: Yeah, I'm starting a clothing company called In Gods Hands, and obviously it all started with Jeremy. I'm sure you've seen the In God's Hands shirts shirts that the Metal Mulisha had made shortly after he passed away -- those were just kind of meant for a short-term thing to raise money for the foundation that I started to kind of help me get back on my feet and such. But what happened is that the shirts did so well and there was such a demand for them, so people just kept ordering them. The Mulisha continued to make them, which I was okay with because I obviously people want to keep his memory alive.

Then Toby Bost, the CEO of La Jolla Group -- who works with Mulisha and a lot of other huge brands -- approached me with the opportunity like, "Why don't you start your own clothing line? It's something that will be a career for you and you love fashion and you love clothes -- it's something to carry on Jeremy's name and legacy." So I was like, "Uh, oh my gosh, yeah!" I knew it would give me something to do and be passionate about, so it kind of just evolved -- like it just started a couple months ago.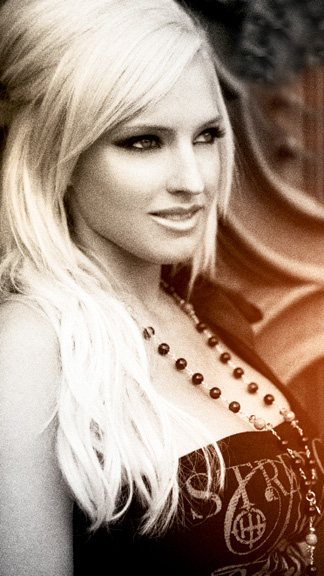 So, shortly after I started working full time in Irvine La Jolla Group -- that's were the Mulisha, Lost, O'Neill and all the other brands are based out of -- and La Jolla Group is just huge. They're big time so it was exciting to get the opportunity to have my own line, which is obviously called In Gods Hands in memory of Jeremy and his tattoo. The brand also kind of represents everything I've been through the past year and a half, with my rollercoaster of ups and downs -- hitting rock bottom to where I'm at right now, pushing through making something good come out of something so bad.

That's so rad. So Manley was also telling me that you're having some sort of launch party on Friday too. What'll be going down there?

Yeah, this Friday we're having a launch party during the ASR tradeshow in San Diego, and it's just to let all the retailers know about the brand. We did a photo shoot two weeks ago, so at the launch party we'll have a streaming video of the shoot, as well as photos and other things. Obviously we have full support from the moto industry, so a lot of industry people and athletes will be there along with mine and Jeremy's friends. So yeah, it's just kind of like a launch party to get everyone excited about the brand. The line happened so fast that people don't even really know about it, so we're just doing this to show people what we're doing.

So what's some of the first stuff that's included in the line? What kind of clothing will you be offering?

We just started out with tees, tanks and hats for Spring 2011, and then as we get into fall we'll start doing other things. But it's small for right now because it just started and we have to kind of create an entire line -- eventually I'd like to make everything, so we'll see where it goes.

Yeah, I was going to ask you about that. How do you see the brand growing in the future?

I want it to go big! I want do everything! I want it to expand to, who knows, jewelry, perfume, cologne -- you know, I want to do everything, so hopefully we'll get there.

I'm sure you've always been into fashion since you're a girl and all girls love fashion, but has designing and owning a clothing line always been a dream of yours?

Yeah, I've always wanted to start my own clothing line, and it's also something Jeremy and I wanted to do as well. So that makes it even more meaningful because we always used to talk about it like, "someday we'll start our own clothing brand." So it's kind of cool that I get to pursue a dream that was mine, and also something we wanted to do together.


I'm guessing it's too early to say since it's so new, but where will people be able to buy the line once it hits the streets?

We have our own website and it's just a splash page right now, but eventually it'll have all the images from the photo shoot and you'll be able to buy the clothing online -- the site's InGodsHands.com. It's not a moto brand so it kind of speaks to a different consumer, so it's probably gonna be in more boutiques and stores like that.

It's probably a pretty good thing that you're not pigeonholing yourself in the motocross world.

Yeah, I didn't want to because I just felt like that's already been done with Mulisha and they're so successful and they already have all the athletes. Even though there are so many brands out there, I wanted to do something different, you know?

That's awesome. I'm really pumped for you! Be sure to keep us in the know about all the brand's progress as well. We'd love to help spread the word. Thank you so much.

Yeah, thank you!