World Industries' Andrew Cannon is having one helluva summer. The young man f just got married, landed multiple announcing/video personality gigs and turned pro this past Friday when he released a banging full-length video part with our friends at TransWorld SKATEboarding. I for one am really happy for Cannon. I've known him since he was grommet and I've gotten to watch him grow up into a great man and an amazing skateboarder. Plus, the dude cracks me up on the regular so I called him up to hear about how pro life has changed him and what he's been eating lately.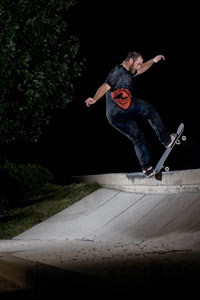 So what are you up to right now?
I was just watching Chris Cole and Tom Asta skate in "Strange World." My wife and I went and spent some of our wedding money last night. We went and got a 46-inch flat-screen TV.
Tell me about what you ate at the Orange County Fair while you were out there for the Maloof Money Cup.
It was RP Bess's choice. RP is the Brand Manager at World. He got me deep fried pigs in a blanket and then he got me a deep-fried bacon wrapped Oreo dipped in chocolate. That was disgusting. The pigs in a blanket was awesome.
So you've been pro for a whole four or five days now. How has life changed? Have you piled out and gotten any bad habits yet?
No, I've done the opposite. I made a bet with Chris Nieratko that I seriously can't lose so I have to do the total opposite of piling out.
That's right. I called you a little earlier and you were at the gym. So tell me a little about the bet and why you were at the gym.
Niertko bet me $100 that I can't get down to 180 pounds by Christmas. Nieratko's one of those dudes, he's awesome but he's someone you don't want to lose to because he won't let it go and I'll never hear the end of it. So I went to the gym for the first time this morning; I've had a membership for a while but I haven't been back in Arizona for two or three months so I haven't gotten the chance to use it.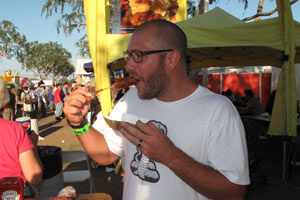 Tell me about your first pro board graphics and your mom's response to them.
My mo's pretty much the most awesome lady in the world. We're doing a series and me Jani Laitiala and Anthony Shetler will have graphics in the series. There apocalyptic animals. My graphic is a bear's head. It's sick, too because the graphics recently have been kinda cartoony but this is way different. It's this bear with goggles because I have glasses now. And it's wearing this helmet with bullet holes in it inspired by a Slayer T-shirt graphic. Then in the middle of the helmet, where normally there'd be a Slayer pentagram logo, it has swords that form an "A.C." instead because I do not believe in the devil; let's just get that out there. My mom was, like (in a dead-on Midwest mom voice), "Andrew I think it's okay. I just don't really get it. I don't understand the helmet. Your father said that was a Nazi helmet." And I'm like, "Mom, it's not a Nazi helmet. It's from a Slayer T-shirt, whatever." My mom is super worried that I'm into the devil or some evil stuff and I keep telling her, "Mom I don't believe in anything! Don't worry about it." Here, I'll actually read you the email she sent me because it's so awesome. "As long as there's no devil influence or anti-god, I am okay. I'm wondering, however about the bullet holes," As if the bullet holes have some hidden meaning or something in this war helmet. My mom is really funny. But yeah, I'm really stoked on the graphic and the helmet's just from a Slayer T-shirt. I don't have any Nazi influences. Everyone's equal. Let's just treat each other well.
What else do you have going on this summer?
Well I've been doing some stuff outside of skateboarding. I've been doing some announcing work for Dew Tour, which has been a lot of fun. And I've been doing some video hosting for you guys at ESPN.com [You'll see more of Cannon's video hosting at the end of the month from the first stop on the Street League circuit]. I've got to do this next Dew Tour stop this weekend and then I'm going to go back to Pennsylvania to start filming some new stuff for this World Industries promo video we're getting started on. I'm just trying to learn some new tricks, lose some weight and be the best skater I can be.