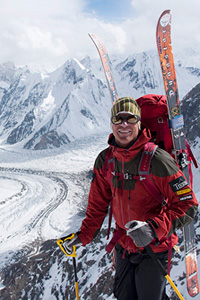 Betweeen 7 and 8 a.m. on Friday morning in Pakistan, Swedish mountaineer and professional skier Fredrik "Frippe" Ericsson fell to his death while attempting to summit 28,253-foot K2, the world's second tallest peak. Ericsson was attempting to become the first man to ski from the summit to base camp. He was 35.
Ericsson was climbing above camp four (8,000 meters, the final push before the summit), near the crux of the climb called the Bottleneck, when he slipped and fell over 3,000 feet.
David Schipper, a Moab, Utah-based climber who attempted K2 in 2007, spoke via satellite phone with Ericsson's climbing partners, American Trey Cook and Austrian Gerlinde Kaltenbrunner, who are now at camp three. "My understanding is that Frippe was preparing to fix rope for the next route, he lost his purchase and could not arrest himself," Schipper told ESPN. "He fell approximately 1,000 meters. It isn't straight down. It's 60 or 70 degrees."
Schipper says they began their summit push around 1:30 am and that they expected to reach the summit in eight to 12 hours. At 5:30 a.m., Cook returned to camp four after turning back at the base of the bottleneck, leaving Kaltenbrunner and Ericsson to continue their ascent.
"My sentiment was the same as everyone else's," Schipper says. "Frippe always had a tremendously positive attitude and he brought with him a positive outlook wherever he went."
In 2004, Ericsson became the first Swede to ski from 8,000 meters when he summited Tibet's Shisha Pangma. With Ski The Big 3, he was planning to ski the world's highest three mountains: Everest (this coming fall), K2, and Kangchenjunga (fall of 2011). K2 would have been his first successful attempt.
On Ericcson's last K2 attempt, his climbing partner Michele Fait died on the expedition. In a previous interview, Ericcson told ESPN's Devon O'Neil, "Michele's tragic death is something that I will always carry with me. During the last year he's been on my mind a lot: I have tried to learn from it and use the experience to make myself stronger. Now I'm trying to focus on the challenge in front of me and hope that all my past experience will enable me to safe and successful ski descent."
Two hundred ninety-nine people have successfully summited K2, compared to the 4,000-plus Everest summiters. Seventy-eight have died during their K2 attempts.