With the release of "X Games 3D: The Movie," 3D movie technology first turned its eye to action sports in 2009. Fast forward to spring 2010. TGR ups the ante, bringing those techniques to freeskiing. The variables in shooting 2D are hard enough. Changing weather conditions, variable snow, remote locations. How do you multiply the difficulty of a 3D rig and bring back stunning imagery to the audience on tours and television screens world wide? These were the questions I had for Todd Jones, co-founder of TGR and the director of TGR's recent Stevens Pass 3D experiment.
So the obvious question, why 3D?
At TGR we are always interested in exploring new technologies. We have been paying attention to the 3D space for quite some time. After a ton of research and experiencing modern 3D in the theatres, we decided we needed to do a 3D project for the skiing world.
How did you actually pull it off?
The 3D space is evolving daily. The first challenge was to find the right cameras for the job. We ended up settling on a rig that was 2 RED cameras gen locked together with a thing called the 21st Century Beam Splitter. We hired a stereographer from New York who managed the 3D component of the shoot, his name was Jason Goodman. He has been shooting 3D for over 15 years and had a very open mind about the project. It was really fun merging our two worlds. There were things he knew so much about where we knew nothing about and visa versa. Every jump, shot, and setup had its own challenges. We went into each day and worked through them. One of the biggest challenges was the size of the rig. It was over 80 pounds and very hard to move around. We had to carefully plan each location just to get the camera where we needed it.
After seeing the shots I was amazed that you guys went right to shooting aerially. Why not pick something simple like shooting cliffs, trees or pow in Jackson and working up to the heli? Seems like a huge gamble if things don't go right?
Collectively we had a vision of taking something we knew and expanding on it. Taking it further. Having an athlete flying in the air, off axis, in your face. The heli was the best way to do this and to do preliminary tests would have been pretty costly, so we just dove in headfirst. It wasn't as easy as it sounds though. We did a lot of custom fabrication to fit the camera onto the Tyler mount. Weighting it was different because you have two camera bodies instead of one. I was operating the 3D rig on the Tyler Mount while the 3D tech was in the back of the copter with a separate monitor making sure the 3D effect was adequate. Much of the time we would shoot that day and make changes and taking that knowledge into the next day. We learned a number of different things about what makes a good 3D shot. A lot of the normal rules get thrown out the window. Getting in close to the action was producing some amazing results, but the athletes were getting blown in the air by the rotor wash. We were pushing in close and the athletes were backing us away. We were walking a fine line to say the least.
How was processing and editing the footage? Did everyone in the office have to put on funny glasses and take vertigo pills?
The workflow was pretty tremendous. Working with the RED files is a process in itself and doubling that because of the dual lenses took a fair amount of time and storage, but we came at it with a good plan of attack. We would use the RED proxy for merging anaglyphic using the left eye (camera) to pick clips, edit, color correct then send to our 3D post house to match the footage to the right eye.
How do you plan on bringing these images to the general consumer?
TGR has a lot of outlets we have to cover — theaters, television, and web. And there are a lot of bugs that still need to be worked out. Many of the glasses used on 3D televisions are only compatible with their specific brand (e.g. Panasonic TVs require panasonic 3D glasses). It's kind of hard to round up the bros to gather around and watch a ski flick when the buy in is a pair of $100 3D glasses that may or may not work with that specific model.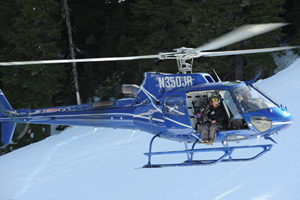 The truth is we are in a transition market and no one really knows where it will go. It's like the Wild West out there. But everyone will agree that 3D has a huge appeal to action sports. It brings a new and interesting perspective to the viewer and ideally that is what we are trying to create in these films. The consumer will have a bunch of options in terms of how they can view our product. We will be offering a 3D Blu-Ray disc that can play advanced 3D if you have the right equipment. It will also play on regular Blu-Ray players and have the option to view in 2D and HD anaglyph. Both the regular and Blu-Ray disk will have these options and will come with anaglyph (red/cyan) glasses. Our tour will feature specific venues with advanced 3D playback. But due to limited venue options the majority of the showings will be shown anaglyphically. Additionally, we will have a website, TGR3D.com to help educate our fans on the crazy new world of 3D, it will have all kinds of general consumer information, as well as special bonus 3D footage and myriad other things.
Do you for see any potential problems with eyestrain or migraines since you use your eye muscles to focus while viewing 3D?
As of now our 3D segment is fairly short compared to Avatar! We have a gradual transition so the viewers have time to for their eyes to adjust and really enjoy the experience.
Was there a huge push at TGR to be the first to do this with a ski film?
I don't think we were motivated by being the first in a competitive way, we were interested in pushing a new space. Having made films for 15 years, we have seen a ton of progression in the sport, as well as in the filmmaking. We pride ourselves on being at the forefront of these progressions. This was another one of those opportunities for us. We ended up calling the project the 3D experiment, which was really what it was and still is. As a result of this project, we are playing with new technology and learning everyday. It is really exciting and challenging.
During your shoot at Stevens Pass were there any memorable moments?
Well to be honest it was a bit of an emotional rollercoaster ride. Months of planning trying to make something out of nothing. Particularly this year the weather was uncooperative on a lot of our shoots, so to get five days of sun was amazing. Sammy Carlson, John Spriggs, and Byron Wells were there and pulled some amazing tricks like switch double misties, chairlift gaps, 1260s, and 1440s — use your imagination. No, better yet, watch the movie.