What's worse than having to climb into three layers of gear just to make a few runs through the park? Showing up at at an après shred party looking like an extra from "Snowboard Academy." With the Balance Flannel from Analog's new ATF collection, you'll never have to worry about either of these situations ever again.
WHAT IT IS: ATF -- or Analog Technical Fashion -- is a nine-piece collection for winter 10/11 that infuses basic lifestyle clothing pieces like plaids and hoodies with weather-shielding performance features found in hyper-technical outerwear. "When I started thinking about designs, I literally tried to create something I could wear anywhere and feel like myself in but I could also jump on the hill and shred with if I wanted to," said Trevor Andrew, who helped create the line along with Mikkel Bang and Danny Davis. The Balance Flannel is perfect example: form and function, together at last.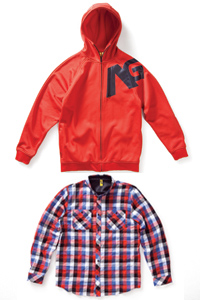 WHY IT RULES: The Balance Flannel, like the other pieces in the collection, doesn't look or feel like some sort of tech nerd mashup (makers of "rideable denim" take note). Rather, feels like a regular flannel shirt you could rock every day. The key difference? With anti-bacterial, moisture-wicking, quick-dry, 4-way stretch fabric, it won't turn into a sopping stink rag after a few hikes up to that secret rail spot. Analog Design Director Joey Jorgenson sums up the motivation behind ATF like this: "It was critical for us to implement everything in a way that was real and not gimmicky. We feel like we've made some real improvements to gear that picks up where a classic 2L shell is too much for conditions or when a rider feels more like expressing his off-the-hill style." In short: more crushing it, less kook factor.
WHERE TO FIND IT: The entire collection will be available starting in August at local shred shops as well as online at Karmaloop.com. Check Analog's Dealer Locator to find the closest retailer to you.