Close to a year ago, etnies released the first version of the Aaron Ross signature Number shoe to wide acclaim both in and outside of the BMX world. Ross, who's ridden for etnies for almost five years and was featured extensively in the etnies film "Grounded," jumped at the chance to design a shoe. And in its latest incarnation, the Number returns with a mid-top design, and a new partner in crime, Ross's bike sponsor, Sunday Bikes.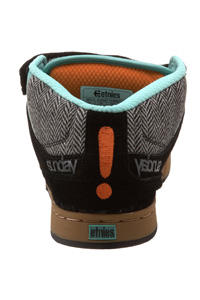 WHAT IT IS:
The etnies/Sunday Number Mid is a collaboration between etnies Footwear and Sunday Bikes. Developed by Ross, the etnies Number Mid, dubbed the "Sunday Number," is a BMX-specific shoe designed to accompany Ross's complete Funday Pro bike from Sunday. Designed and tested by Ross, the Number Mid is exactly what Aaron wanted in a BMX shoe. "For my shoe, I wanted a happy medium between a tough shoe for riding, and a more casual shoe. And I think we accomplished that with the Number. It's slimmed down, and it has the vulcanized shoe look, but it's a cup sole," says Ross.
WHY IT RULES:
The etnies Number Mid features include a grippy cupsole, Sole Tech's System G2 inserted into the heel and STI Foam Lite Level 2 footbed. Additional features include a BMX-specific outsole with a herringbone step pattern designed to grip pedals better, but also release when needed -- without tearing. Simply put, this shoe protects your feet from the BMX elements, and if Aaron Ross is backing it, then you know it's built to last without feeling like a block of concrete on your feet. And oh yeah, Sunday is releasing 25 limited edition Funday complete bikes, featuring the same colorway as the shoe. "It's just awesome that etnies has always backed BMX so hard. I'm really pumped on my shoe, and I hope you guys like it," says Ross.
WHERE TO FIND IT:
Go direct through etnies.com, or strangely enough, put down the book and shop at Amazon.
xgames.com