For motocross fans the announcements this week have been one sting after another: James Stewart drops from the X Games, Chad Reed finds out he has Epstein Barr and can't defend his AMA championship and Josh Hill breaks his femur while practicing backflips for the Speed & Style competition. One rider nobody has heard much from this summer, until his withdrawal announcement, is Stewart.
Back in January, at round two of the 2010 AMA Supercross Championship, he collided mid-air over the triples with Kyle Partridge and broke the scaphoid bone in his right wrist. The scaphoid (sometimes called the navicular) is a bone that is entirely inside the joint so it's a stubborn healer. Stewart had surgery in late January and didn't climb back on a bike until early July. We talked to him soon after he found out that his teammate, Josh Hill, had suffered extensive injuries in practice.
ESPN.com: Is there is a question you're sick of answering right now?
James Stewart: (laughs) Probably the one for me is 'When are you going to be back racing again?' because I had surgery six months ago and at that time I didn't know. It's one of those things where I thought I was going to be riding a few weeks afterward but I never got the call [from the doctor]. Six months down the road, as you can imagine, and after all the races I missed, that's been the question.
How hard was it to make the decision not to come to the X Games?
Well, I've been riding for two weeks now, and obviously I was planning on going, but this decision kind of happened a little while ago. It didn't happen this week. But I think everyone was just kind of holding on [to the idea] that maybe I would get back and start riding and feel like Superman in one week. I came back riding and I was trying to get back on the outdoors (AMA Motocross Championship). It was a little bit easier than Supercross, and X Games popped up so quick. It just wasn't quite there.
At what point did you realize that your speed and strength wasn't there?
Probably last week. I realized that I had to race within a week and a half. Stress-wise, being off the motorcycle for six months, it took a little bit longer than I thought. More on my wrist than anything, strength-wise, it's a pain going from motocross to a supercross track and not knowing for sure. I wouldn't be able to do 20 laps. I think I would be lucky to get half of that.
What does the pain feel like? Describe what you're feeling in your wrist.
Honestly, it's like breaking your pinky toe and being out for six months. That's what it feels like. To me, it's a really small bone and shouldn't be a big deal. Like Josh Hill broke his femur. That's a big deal. This bone in my wrist is maybe smaller than a pinky toe and I've been out for six months. It doesn't get a lot of blood flow and it does take a long time, but it's been stressful and I'm over trying to deal with this and getting the call every week like, 'Hey, can we ride?' 'No, not yet.' This year I was really looking forward to getting back to the X Games -- since I missed out last year because I hurt my shoulder -- and kind of coming over there and destroying the whole field. But, unfortunately, I got hurt in January and it's still hurting me in July.
How much does it hurt to listen to the rumors, speculation and trash talk?
It's been difficult to know that I can't back it up. I've heard people sit there and talk about me and I couldn't do anything about it. At the same time it's one of those things that I knew what kind of injury I had and I had to take my time and come back.
In this sport people tend to buy into the phrase "You're only as good as your last race." I've had that conversation with Jeremy McGrath more than once. Are you feeling that, too?
For sure. You go from winning all these races to ... I won the first race of the season, broke my wrist the second race and the third race I should have won but I had a broken wrist. Still, it's like you're done, 'He's retired.'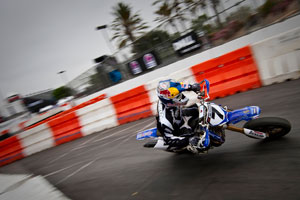 Do you believe in Super X event at the X Games? Do you think it's a worthwhile event for the industry?
Definitely. The event is awesome. Last year I went in thinking it was going to be a normal race, but it was gnarly. We had, like, an hour of supercross practice! The X Games is huge because so many people watch it. It was neat for me to be a part of it and see how many fans I have -- and that was before my TV show. I know if I was able to come back this year it would be even bigger. I'm definitely bummed out.
What can the X Games do to get more top guys in the Super X event?
It's hard, and unfortunately we're going to lose out. You can't have events where nobody shows up, especially the top guys. Racing is different because [X Games] is not one of our events. If you get hurt the sponsors look at it as, 'Man, you shouldn't be out there doing that.' We look at it as a cool event to do, and the manufacturers look at it like 'Look, if you get hurt we won't pay you and you're not contracted to do that.' It kind of sucks.
I've always believed that you get more exposure from this one event than half the supercross season or outdoor season. The X Games is getting bigger and [manufacturers] see how much exposure you get from it. Motocross has been around for so long now that a lot people have their ways set. 'This is how we do it and if you don't like it, retire.'
Have you taken up any new hobbies in your off time?
I do a little wake surfing now. You only go about 10 mph behind a boat on a mini surfboard so I figure that's pretty safe. No rope, no nothing. Get up and catch a wave, that's about it. When you fall over it's like falling into a pool.
How much have you learned about television production in the last year?
A lot! It's funny because back in the day when you were producing motocross I was like 'Why can't you get me the tapes faster?' Now, I understand how involved it is. I enjoy doing my TV show. I didn't know how much [reality shows] were staged. Like the T.O. Show, I thought that's how he really was. But when you're behind the scenes, there's carrots out there that say 'Go do this because it's good for TV.' But it was fun.
They never told you it was all smoke and mirrors?
It's cool. You get put up in a situation and they say, 'Okay, act!' And I'll say, 'Now hold up, I'm not Denzel Washington; I can't just act! "Bubba's World 2" will be a lot more realistic. The first one was good, but this will be a lot more racing. It will be fun.
I watched a few episodes and I must say when I saw them I said, "That's not the James Stewart I know." I don't think we're best buds or anything but my first reaction was "That's not him." What did you feel when you saw the final product?
The same thing. I don't really go out and drink and I tried to portray that as best as I could, like, 'Look I really don't enjoy doing this,' but honestly so many young kids and the X Games crowd loved it. It was their favorite show. I couldn't believe it. When you get older, especially when you work in the industry, you know how things are set up, but people loved the show. What's best for me and what's best for TV helped me get bigger. It kind of goes along with the X Games; it might not be the best timing, but realistically I know how big it is and that I had to do it.
Did you learn about yourself through it? New experiences?
I mean, I got over my fear of alligators! I realized how much I hate partying and hanging out. That only amplified it more in the show. There was no raging moment in there where I was like, "Wow, that was groundbreaking." I knew what I was getting myself into and I don't have any complaints about it.
The second season is going to be a little bit different. It's more based around racing. I think the moto fans are going to love this one.
The industry media has been pumping up Unadilla as your return. Is that still your goal?
That's what I'm shooting for but I don't want to overcook it. I know how important it is to try to get back out and race. I know for a fact that Unadilla is probably going to be the highest rated of the outdoor series in probably the last couple of years.
X Games Super X. Pick a winner.
I'm going to have to go with Hanny (Josh Hansen). The three-peat. Hanny pulls a "Hanny."