After news spread of Edwin De La Rosa and Tom White leaving Fit Bike Co. on Monday night, rampant speculation about Edwin starting a new bike brand spread. That brand, Skavenger, isn't necessarily new, but they are expanding into hard goods. And as of this morning, that news has been officially confirmed by Skavenger owner Vinnie Sammon. Initially, Edwin and Vinnnie were planning on launching Skavenger closer to Interbike, but it looks like they might have frames, forks and bars ready to go before then. Earlier today, I stopped by Vinnie's house in Jersey City to talk Skavenger, and here's what he had to say.
So what's going on with the company?
As of right now, we've been in the process of testing a bunch of frames. We've had some issues with other manufacturers. Frames weren't how we wanted them, and it didn't feel or look right. So we switched manufacturers and it's been going a lot better. Things are looking up for us having a production frame within the next couple of months. We're going to be producing frames, forks and bars.
Who's involved?
The owners are Edwin De La Rosa, myself (Vinnie Sammon) and Ralph Sinisi. We're not just the face of the company; we never sold the name or are branding it out. We are all equal on the business end. Ed and I have 100% control over image, ads, team selection. The image we've always put out there, nothing's going to change, except that Ralph is a business partner.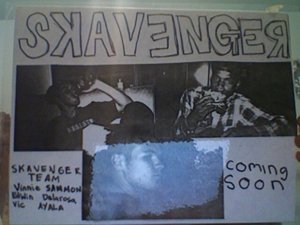 Has a team been put together?
We've talked to a bunch of people, but we're not going to announce the official team, at least until we get our Web site running. Over the past couple years, that's been a nightmare, dealing with shady Web dudes. But the last guy we got is real solid, so we should have a new site up within the next couple of weeks. The majority of our team will be announced then. There's a couple other guys that have other stuff going on that we need to straighten out before we can say that they're down.
Was the Edwin split with Fit planned?
No, it actually caught me off guard too. I knew it was going to come up eventually, and [Fit owner] Chris Moeller knew the deal for a while. I knew Edwin told Ralph about quitting soon, and it ended up being that next day. I came home from work and saw it on the Internet and had a some e-mails about it, haha.
Can you go more into what products Skavenger will be producing?
Off the bat, frame, fork and bars for hard goods. We're just gonna take it from there. But we're definitely looking to expand into a bigger line.
Do you want to talk about the frames in detail?
There's going to be two frames off the bat. And they'll have more traditional geometry. No low slung-type frames. More like the frames we've always rode. And the back end won't be too short either. But there's two different sets of geometry for the two different frames.
And what about the forks or bars?
The bars are going to be the same as my Sunday signature bars. I actually got a pretty good response from people that rode them, so we figured we might throw em into production for Skavenger. No names or anything yet, but that will be announced all real soon with the design of our fork. It's a bit different.
Follow Skavenger on Twitter. And soon enough, there will be more updates coming via Skavenger.com
xgames.com