It was the heel slice seen 'round the world. Nearly two weeks ago, Joel Parkinson was where he usually is this time of year: right up in the mix for an ASP world title. Then, in a routine barrel caught during a routine training session at Snapper, everything went sideways in a frighteningly familiar way. It was only a year ago that a freesurfing ankle injury derailed one of the most foregone title runs in recent memory. Now, thanks to a fin gash that quite nearly cut his heel off, Parkinson is right back where he doesn't want to be: rehabbing while the rest of the tour leaves him behind. And initial reports that he'd miss J-Bay in an effort to make it back for Teahupoo are, by his own admission, looking a little premature.
ESPN.com: What actual muscles and tendons did you chop?
Joel Parkinson: I cut my Plantar Fascia muscle and all the tendons that sit behind it.
What was involved in the operation?
They sewed everything back together internally then stitched the actual outside of the cut with countless stitches. I think the surgeon actually lost count. The cut isn't the problem. It's slowing working my tendons and muscles back to full strength.
What did the doctors tell you about the injury?
They said it was really severe. It was a gruesome cut. They said I was really lucky because if it had of been any deeper, I would have cut off a bunch of toe tendons and would have lost some feeling and movement in the rest of my foot. I was so lucky it didn't go that far.
[The surgeon] judged it as a really serious injury. He didn't give me a time frame to get back in the water. It depends on how well I look after it. I'm doing everything I can, to get it as good as I can, as soon as I can, but there's just no time frame on an injury like this.
It's coming up to two weeks since it happened. How's it healing?
It's definitely starting to feel better; I don't have any more pain. The feeling and movement in my toes is coming back. My ankle is moving. All the trauma to the area is wearing off. Hopefully I'll get the stitches out this Thursday.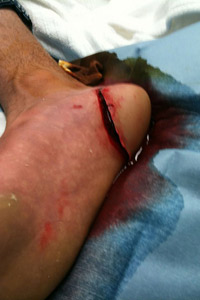 What is required to actually get back in the water?
Once the muscle and tendons heal up, I can get into my rehabilitation. The scar tissue is going to feel like I'm standing on needles for quite a while. He (the surgeon) doesn't want me to rip the scare tissue and potentially slow down the healing process by getting back into the water too early. I have to stay off my foot for at least six weeks until I've heeled or my tendons have combined together enough that I can start to walk on it.
How are you going to know when you can go back in the water? Are you going to wait until it's fully heeled 100 percent or are you going to return when it's 80 percent like most frothing surfers would?
I'm going to wait as long as it takes to get it back 100 percent. I surfed in a few competitions last year after my ankle injury in Bali at 60, 70 percent, and it's just not the smart thing to do. When I come back I want to be in full competitive state - mind and body. Also after being off it for a few weeks the muscles in my legs will deteriorate, so I'm going to have to rebuild them to full strength. There's no real quick fix on this one. It's a sit on the couch, foot up and just let it heel.
Are you going to be doing all your rehabilitation with personal trainer Wes Berg or will you have to see specialists from time to time?
Wes is going to get instructions from them (the specialists) of what I can and can't do. Wes and I will take it from there.
There was a lot of media hype about being back in the water and competing at Teahupoo. Is that really the kind of place you want to paddle out when it's say, ten foot and you've just reached 100 percent recovery?
I'm hoping to get back in the water as soon as I can. I'm hoping to be back for Tahiti ... but I can't admit to that. [Long pause] I don't think I'll be at 'Chopes. I think there'll be a good chance I'll be just starting to walk around that time, let alone surf.
When you actually did it, reportedly you came up from the wave, put your fingers into the gash and they almost went all the way through your heel, and that's when you realized the seriousness. Was it like a bad dream, 2009 all over again?
Yeah it was, but it wasn't like the World Title was flashing before my eyes or anything. It was more the shock of the cut. I didn't really think 'oh I'm going to be missing J-bay'. Before I even made it to the beach I raised my leg out of the water to see if I had cut myself. I knew I had because my fingers disappeared in there. Then I pulled up my foot and my heel was sagging off. I was just like 'phooar' and I tried to squeeze it back on. I pressed the piece of heel on to my foot while I was being washed in. Soon as I got to the beach, the guys grabbed me and helped me to the ambulance. Then it was straight to the hospital.
What are you thinking about the World Title as it stands for you at the moment?
I think my dream of being the World Champ this year is pretty much over. I'd love to come back and be 100 percent and win the Triple Crown. As for the World Title I think I have to get over my injury and put all my efforts in to next year. I'd expect to be sitting around 20 in the rankings by the time I get back. The World Title will be out of reach for me at that stage. Guys will be so far in front.
Who do you want to see win the world Title if you're out of the running?
Dean Morrison would be good. Or Andy Irons would be really good.
You did your right ankle last August. Now this. Have you ever considered chopping the thing off and starting again?
Oh no! It's my back foot! It's the one that stands right on my fins. That's where all my power comes from. It's always the one that is going to get into trouble. Maybe I become a goofy footer!