If you grow up in Africa, you learn the law of the jungle pretty quick. Ask Cape Town's Sean Holmes and he'll tell you it's "kill or be killed." Holmes chose the former and slayed two of the biggest lions in recent surfing history in one day.
Holmes ousted both Kelly Slater and Andy Irons, allowing his countryman, Jordy Smith to take the No. 1 slot in the world. Smith beat hot goofyfoot Owen Wright (who is beginning to have the kind of rookie year Smith hoped to have in 2008) in round four.
Holmes has been suffering from a sore back and had to rely more on strategy than pure power. Like any good hunter, he led Slater into a trap, allowing Slater to take an average wave and finding a bigger line behind it. By most accounts, Slater outsurfed Holmes, but Holmes found that ever-important tube section and wound up edging out the nine-time world champ by less than half a point.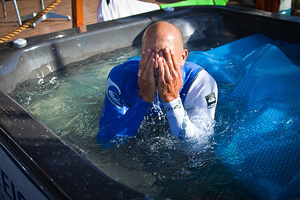 "Look, Kelly is going to belt the score he needs on any wave," Holmes said afterward, "For me, with my back, I wasn't going to improve my score on the smaller wave so there was no point in me taking it. That was the tactic I was playing with throughout the heat and I was fortunate that the ocean cooperated with me at the end."
Slater, meanwhile, said something along the lines of South Africa being a long way to come to loose by .4 points.
And the South African wildcard wasn't done after beating Slater. He paddled directly into round four and speared Andy Irons in the neck with a respectable cover-up for an 8.6. Everyone keeps remarking about Holmes having the local knowledge at J-Bay, but as he reminded us earlier this week, he lives some 700 kilometers from the famed right. He faces Bede Durbidge in the quarterfinals.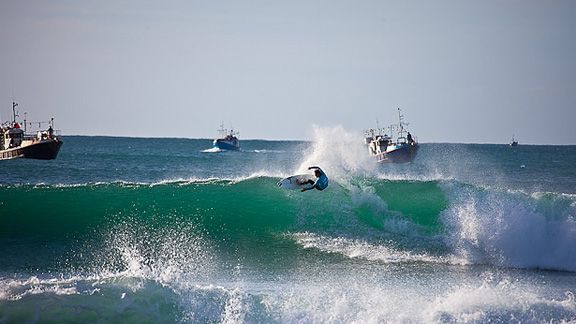 A bit of trivia: With the defeat of Wright, Jordy Smith is the first South African to ever hold the No.1 spot on the ASP ratings. Shaun Tomson and Pottz might have won World Titles but they did it holding British passports because of the rules during the Apartheid years.
The tubes were particularly important today because the re-entries were getting repetitive and airs weren't being landed. Smith found his against Wright. And leave it to Dane Reynolds to then take an average wave and finish it with a fins-free slice to beat Brett Simpson. The other upset was Damien Hobgood taking down Mick Fanning.
Taj Burrow had a good run, beating both Joan Duru and Tiago Pires with considerable room to spare.
"I'm feeling better with each heat," Burrow said, "It certainly helps with the ratings and makes things interesting. There's been some big upsets, but at the end of the day, I just want to surf to my best out in the heat. I feel like I'm working my way towards it and I just want to perform at my best."
The event will resume at 7:30 a.m. local time on Sunday, and (swell permitting) we could have a winner by tomorrow.
Billabong Pro Jeffreys Bay Remaining Round 3 Results:
Heat 5: Bede Durbidge (AUS) 14.33 def. Tanner Gudauskas (USA) 8.50
Heat 6: Matt Wilkinson (AUS) 15.80 def. Fredrick Patacchia (HAW) 3.97
Heat 7: Andy Irons (HAW) 12.33 def. Luke Stedman (AUS) 9.43
Heat 8: Sean Holmes (ZAF) 13.10 def. Kelly Slater (USA) 13.06
Heat 9: Taj Burrow (AUS) 13.93 def. Joan Duru (FRA) 10.64
Heat 10: Tiago Pires (PRT) 14.60 def. Kekoa Bacalso (HAW) 13.80
Heat 11: Dane Reynolds (USA) 13.23 def. Neco Padaratz (BRA) 12.50
Heat 12: Brett Simpson (USA) 14.63 def. Michel Bourez (PYF) 14.06
Heat 13: Mick Fanning (AUS) 18.23 def. Tim Reyes (USA) 13.10
Heat 14: Damien Hobgood (USA) 13.63 def. Dean Morrison (AUS) 11.40
Heat 15: Adam Melling (AUS) 16.06 def. Bobby Martinez (USA) 8.00
Heat 16: Dusty Payne (HAW) 15.33 def. Chris Davidson (AUS) 10.20
Billabong Pro Jeffreys Bay Round 4 Results:
Heat 1: Adriano de Souza (BRA) 14.63 def. Adrian Buchan (AUS) 11.44
Heat 2: Jordy Smith (ZAF) 17.87 def. Owen Wright (AUS) 15.83
Heat 3: Bede Durbidge (AUS) 14.53 def. Matt Wilkinson (AUS) 8.90
Heat 4: Sean Holmes (ZAF) 15.60 def. Andy Irons (HAW) 15.17
Heat 5: Taj Burrow (AUS) 18.87 def. Tiago Pires (PRT) 12.00
Heat 6: Dane Reynolds (USA) 16.93 def. Brett Simpson (USA) 13.20
Heat 7: Damien Hobgood (USA) 13.77 def. Mick Fanning (AUS) 13.00
Billabong Pro Jeffreys Bay Remaining Round 4 Match-Ups:
Heat 8: Adam Melling (AUS) vs. Dusty Payne (HAW)
Billabong Pro Jeffreys Bay Quarterfinal Match-Ups:
QF 1: Adriano de Souza (BRA) vs. Jordy Smith (ZAF)
QF 2: Bede Durbidge (AUS) vs. Sean Holmes (ZAF)
QF 3: Taj Burrow (AUS) vs. Dane Reynolds (USA)
QF 4: Damien Hobgood (USA) vs. TBD