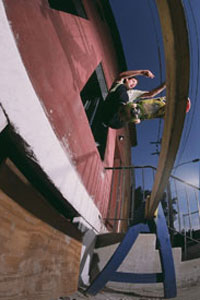 Just over two months ago we caught up with Ricky Oyola to see what was going on with his brand,Traffic. He had discussed trying to get a distribution deal in place in hopes of taking the company to the next level. Just recently Oyola signed a deal with Syndrome Distribution. We hit him up to get the details.
How did this Syndrome thing come about?
Basically, I gave Jason Maxwell a call and it worked out. He was pretty excited. He seemed taken off guard a little bit and I was kind of surprised because I thought I had put it out there that I was looking for a distributor. Either way, it was good.
Does Syndrome see Traffic as the natural replacement for Plan B?
I can't really answer for them. But no, I couldn't imagine they'd think Traffic would be the natural replacement for Plan B. But I'm sure they believe in it or they wouldn't do it at all. It's a good fit for both of us but no way am I going to say that Traffic is replacing Plan B. I can only hope that Traffic gets close to that size.
Bobby Puleo could be your PJ Ladd in terms of quiet weirdness.
Yeah, I don't want Puleo to talk to anybody. Let's just let Bobby be Bobby and let him skate how he skates. He fits Traffic to a "T" but he's not a people's person.
What does this distribution deal mean for the brand now?
It means [Traffic] has a sales force. Traffic has been going along slowly but surely because I've had no resources and I've done everything myself with no money. This means that someone is actually going to be on the phones every day talking to shops across the states and across the world. Anybody who said they couldn't get a hold of Traffic before, that won't be the case anymore. I've done some research and Syndrome is pretty amazing in how they contact people; they have a lot of the resources that I need. This means that Traffic should be more readily available to anyone and everybody.
Does this mean you're switching from Chapman wood to Syndrome wood?
Yeah, no more Chapman wood. Obviously we were all psyched with Chapman wood. But to go with these guys I have to use their wood. I've gotten some of their boards and we've tested it out and I've asked shops what they thought and I heard all good things. Obviously Chapman helped me out and I didn't want to move but for the betterment of the brand I had to do it.
Can we expect you to add a new pro now?
Not necessarily a pro but maybe having another guy on our squad. I definitely want to cater to the Japanese market because it's our biggest market. Deshi rides for us over there and I want to add another person in Japan. I've reached out to my French distributor about picking up someone over there. I want dudes across the globe so we can have them in the Traffic Reports. Here in The States I've definitely thought about adding another pro. Right now it's just me, Bobby and Jack Sabback and we're not the typical pros. Rich Adler will be our next pro from within the ranks. We will give him a board. But I would definitely like to add somebody else. It might be best to get somebody out west. I know Jack has somebody he's really interested in. We'll see how that goes. But Rich will be pro by spring and he has footage to back it up.