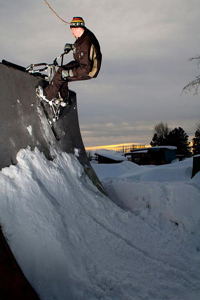 S&M/Odyssey/Orchid rider Matt Beringer sustained a severe head injury after falling backwards on a 180 at FDR Skatepark in Philadelphia, Pa on Friday. Beringer was rushed to the ICU at the University of Pennsylvania hospital. According to Tim 'Fuzzy' Hall's Twitter feed, Beringer sustained a fractured skull and some bleeding on the brain. He is under close observation and doctors say it will be six months for the fracture to heal.
It looks like he's going to be alright in the long run, but let's all throw our collective well wishes out to Matt Beringer right about now. Head injuries are serious business, and even though Beringer is a pretty tough guy, he's going to need our support right now.
If you'd like to leave Beringer a get well soon comment, head on over to the 5050 BMX site and show him some love. And from all of us at ESPN, we're pulling for you Matt. I'm even wearing my signature Matt Beringer Orchids today.
xgames.com