The National Scholastic Surfing Association Championships is all about experience. Whether it's surfing in a heat against your best peers or chopping it up on the beach with industry peeps and media, it's all related to preparing groms for the big leagues. The NSSA Nationals teaches groms how to deal with the physical and mental pressures of competitive surfing and how to be comfortable at big events.
"I was pretty nervous because I didn't know what was going on with contests and how to really surf in them," says Newport Beach's Tyler Gunter, 10, of his first NSSA season. This year is his fourth time competing at Nationals and Gunter is cooler than the 10 7-Eleven Slurpee samples he downed before this interview.
""Now I'm really relaxed with [contests] and now I'm doing pretty good with [contests]'" explains Gunter. The goofy-foot surfed the four-foot, Huntington Beach peaks well, qualifying for Mini-Grom Final and the Boys Division quarterfinal yesterday. "I'm not the biggest fan of this wave," he admits. "It's usually really bad, but this contest got lucky with good waves. It's pretty good for Huntington Beach."
Ripping is the main focus of the NSSA Nationals for Gunter and many grommets, but there is also the camaraderie factor of this event.
"It's really fun to see all my friends from Hawaii and the East Coast," says Gunter who, like the other young surfers on the beach, has been playing foosball all day between heats. While Gunter is already a seasoned veteran of the NSSA, his fellow Boys division quarterfinalist Loa Ng is making his Nationals debut.
"He's been the overachiever of the event," says Billabong Coach Rainos Hayes of Loa Ng. "He has a natural ability to go get large waves and take risks. That's helping him cheat the system."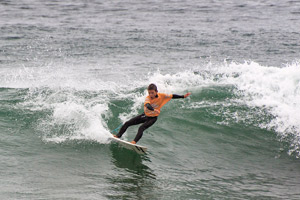 Ng hails from Kona on the Big Island and this past season is the first time the 11-year-old is competing in the NSSA. He blew Hayes and many others away earlier this year when he won the Boys division at the first contest of the NSSA Hawaii season.
He fell short in the semifinal heat of the Open Mini Grom division, but qualified for the quarterfinals of the Boys division at Huntington Beach. While losing is never easy, a young surfer can learn as much from the losses as the victories.
"It's super fun to hang out with my friends and to surf against these really good people and surf really good waves," says Loa about his first trip to Nationals. "It's a really good experience for me."
Ng and Gunter are surfing in the quarterfinals of the Boys division today alongside competitors in the Open Men's and Women's divisions as well. All of the action from Huntington Beach will be broadcast live on NSSAlive.org.