Sammy Carlson tested out the finished jump yesterday for his upcoming big air event, the Sammy Carlson Invitational. Scheduled for tomorrow, the first major summer big air to take place in North America since the long defunct Whistler Open will feature a field of powerful pros including TJ Schiller, Tom Wallisch, and Bobby Brown. Oh yeah, and Sammy Carlson.
Measuring 110 feet from takeoff to knuckle, the SCI jump has drawn gasps from some competitors. "Holy crap," Justin Dorey tweeted yesterday upon his first sight of the kicker, "Sammy just built a really big jump."
Tim Durtschi echoed that sentiment when he arrived to a training session on the jump this morning, tweeting "Just saw SCI jump...Hand too shaky to TwitPic." While being on the giant side, the air time on the SCI jump has proved smooth, unscary, and rather useful to competitors. "Most commonly heard thing at SCI," tweeted Durtschi after hitting the jump with other practicing competitors, "That 720 felt like a 3."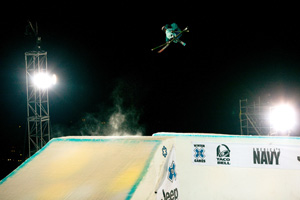 With the Winter X Ski Big Air earlier this winter, we saw the discipline resurge as a venue for spontaneity and innovation. And since that night, variations on the one-trick theme haven't stopped. This spring, the Internet buzzed with rather convincing rumors about triples on skis, and provided video evidence of triple flips on single planks.
Might we see triples tomorrow at the inaugural Sammy Carlson Invitational big air? Will it be another mind-blowing spectacle à la Ski Big Air at Winter X 14? I don't know. But I do know that when the sun is out, and the snow is soft, a jump that makes a 720 feel "like a 3," could also make a triple feel like a double.
And it's not like a double is that big of a deal.