Did anything seem odd to you about last season? If you followed the contests, you might have noticed the so-very-conspicuous absence of one Tanner Hall. After nine straight years (2001-2009) without failing to medal at Winter X, and a Winter X Pipe three-peat (2006-2008) that began the winter immediately after he crushed both ankles on Chad's Gap, the seemingly unstoppable Hall was left on the sidelines in 2010 after sustaining extensive injuries to both knees at Stevens Pass in 2009.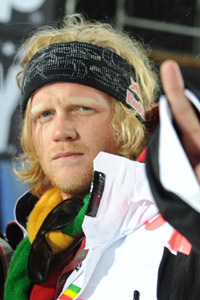 The weirdness of last season may, in fact, be the new paradigm. Last year, in an interview with ESPN Freeskiing, Hall alluded to plans to exit competition for good, saying, "I think it's time for the next chapter in what I want to do and where I want to take skiing."
But a lot has changed in the last year, including ski pipe's recent big step toward becoming an Olympic event in 2014. Moreover, the Tanner Hall that alluded to leaving competition for good a year ago was in the midst of a weekly regimen of knee surgeries, whereas the Tanner Hall that yesterday took his first day of trampoline training since the completion of that regimen looked capable as a violin.
Hall is expected to click in for the first time since his injury a week from now on July 6th during an upcoming session at Windell's Ski Camp in Mt. Hood, OR.