If you visited ESPN FMX last week, you may've noticed things were a bit slow. The reason for this is because I was living it up, taking a 'staycation' in Brooklyn. It was my first vacation since becoming a part of ESPN, so I made sure to make the most of it and leave my computer in the closet. But now, back at it, I'm catching up on emails, haps and rumors, and it seems like A LOT went down while I was out. Where do I even start? Let's see ... let's talk X Games, shall we?
Everyone's favorite front flipper Paris Rosen will officially be making his second X Games Best Trick appearance. It's safe to say that we'll be seeing another front flip from Rosen, but as we know, Best Trick is all about progression so there's a good chance he'll be throwing a front flip combo of some sort. But, we haven't officially heard anything regarding his trick of choice.
Another front flipper joining the Best Trick brigade is Jimmy Fitzpatrick. We all know that Fitz is sick on the ramps, but apparently this ruthless ripper is eyeing a no-handed 75-foot front flip. A few weeks ago, ESPN.com/Action contributor Chris Tedesco caught up with Fitz while he was dialing the fronty into the Mulisha Compound foam pit. In the vid, it looks like he's got a bit of a ways to go, but industry chatter is saying that he has the no-handed flip nearly 100% dialed into the pit.
And ANOTHER front flipper, Jackson 'Jacko' Strong, has been added to the alternate list for Best Trick, where he's currently the first alternate. As we've seen in the past, the first alternate usually makes it into the big show, so Jacko's looking good, but a lot can change between now and X. As we all know, Jacko straight stomped an 85-foot front flip on the Crusty Tour in Australia. With three front flippers more than likely doing battle in Best Trick, you can bet that they're currently hard at work coming up with some insane new combos to add to the once-thought impossible rotation.
With Best Trick looking stacked and set, you have to remember that there are always a lot of unexpected changes and additions as the event nears. I know that everyone's pulling for both Rich Kearns with his dead body flips and dead body flip variations, and Australia's newest sensation Clinton Moore, who's been pulling the 75-foot Volt at every Nitro Circus event in Oz. In addition to the standart Volt, Moore has also landed a Volt to Superman seat grab, and he's rumored to be dialing the TP 720 (or 360 backflip as some refer to it) in his foam pit.
In other news, Metal Mulisha dropped their seventh 'Poached' ad in the latest TransWorld Motocross Magazine and it's absolutely amazing -- I'm actually going to go out on a limb and claim it as the best one yet. Leave it to 'The General' Brian Deegan to do what every motocross rider dreams of ... roosting around on a pristine golf course. The two-page ad is sick as a mofo, but when you watch the video it makes you realize what a big scene Deegs caused. The best is the look on the golfer's faces ... priceless.
Staying on the subject of magazines, the latest issue of France's Freestyle Motocross Magazine has dropped, and it's the newcomer French ripper David Rinaldo who graces the cover. Rinaldo is apparently making a big impact on the European contest scene and our boy Tobian Hannig of forty8.de nabbed us an interview with the kid, so keep an eye out for that -- it should be dropping soon.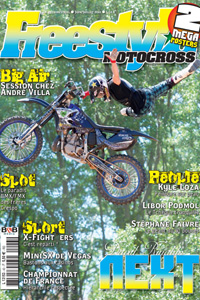 In completely non-relevant news, over-rated stunt legend
Robbie Knievel
jumped 200-feet over some service vehicles
at the Texas Motor Speedway on June 5th. But that was just a mere warm up for his lake jump coming up July 3rd at Wild Adventures Theme Park in Georgia. I'm unsure of how far Knievel Jr. will have to jump to clear the swamp, but by the looks of
this photo
, he better ring his hoopty-ass bike out fifth gear pinned if he plans on staying out of the drink. According to The Valdosta Daily Times, the Wild Adventures lake gained fame when it was featured in the Woody Harrelson movie "
Zombieland
," where a vehicle crashes into the lake. Beat that Maddo ... your stinkin' canal in Greece wasn't in no freakin' Woody Harrelson movie ...
Lastly, but not least, you may've noticed that ESPN.com/Action received a bit of a facelift yesterday. Along with the new exxxtra hardcore black background template, the site has added a bunch of sick new features including a Twitter module that displays the pro's latest Twitter tweets (or whatever you call them,) and a completely new blog layout, which has become the main landing page for FMX. Keep it simple stupid, right? You may've been having a few issues with bugs, but ESPN tech is working overtime to make sure everything gets sorted out.
That's it for now, but stay tuned cause with X Games nearing closer and closer every day, the FMX scene is heating up. Peace!