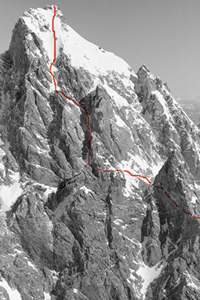 [Ed's note: Don't miss the first, second, third, fourth, fifth, sixth, and seventh installments of our Unskied Lines series.]
Among the many objectives nominated for this series, only one gets skied an estimated five to 10 times per year, sometimes by commercially guided clients: the Grand Teton.
Ever since Bill Briggs made his momentous first descent of the Grand on June 15, 1971, the spire-like, 13,780-foot peak has been a measuring stick for ski mountaineers -- an ever-present invitation that looms 7,500 vertical feet above Jackson Hole.
But despite its modern popularity among freeskiers and a select few snowboarders, the Grand has never been fully descended without any downclimbing or rope assistance. Andrew McLean, as well as a host of other elite alpinists, posited that such a feat would rank as a huge achievement, a first descent of its own pure style.
There are some years when the Grand remains totally unskiable, be it due to low snowpack, ruthless high-elevation winds or an inopportune climate. But Marmot-sponsored ski mountaineer Mark Newcomb, a native of the Teton Range and a senior guide for Jackson-based Exum Mountain Guides, believes a full descent can be done.
"That was our goal for a few years," said Newcomb, 43, who's made first descents from his back yard to the Himalaya. "But that's one of the things that differentiates the ski descents we were doing in the '90s to what we're doing now. We were really trying to ski things in their entirety."
Newcomb is credited with having come the closest to a full descent of the Grand in 1998, three years after he skied it for the first time. He later guided the first commercial descent, with Doug Coombs, in 2004, and has skied the peak by four of the five known routes, including two first descents.
Of his "six or eight" total descents, only once did Newcomb solo it. That happened to be the day he came within a 30-foot downclimb of bagging the coveted full descent.
Newcomb descended the Ford-Chevy-Stettner route that spring morning, as most skiers do. He skied all of the Ford Couloir, but ran into a deep runnel at the top of the Chevy, which is notorious for its ice, a potentially fatal surface to navigate on skis when you are dealing with thousands of feet of exposure.
After his downclimb, Newcomb clicked back into his skis and sidestepped the first ice bulge with the help of a hand line, then hopped over a small, lower bulge. "If you had missed," he recalled in a phone interview, "you definitely weren't going to live through it." Newcomb then skied the Stettner Couloir and the remainder of the roughly 6,500-vertical-foot descent (if skied from the summit to the valley floor before the spring snowmelt began, the descent would be about 7,000 feet).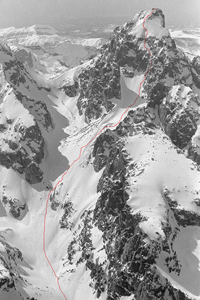 Asked what it would take to ski the Ford-Chevy-Stettner in its entirety, Newcomb said: "It would have to be a warmish, wet winter that dumped a lot of snow up high, without the winds that strip the snow up there and deposit it down below treeline. On that kind of winter, someone would be able to stomp those [ice-bulge] landings onto softer snow."
Already 15 minutes into the interview, Newcomb paused. "But I'll tell you the way I think it's going to get done. The Otter Body route off the east face."
Newcomb pioneered the Otter Body with Coombs in the spring of 1996 -- a descent that doubled as Newcomb's job interview to work for Coombs in Alaska.
The route begins with the precipitous east snowfield below the summit, of which Briggs stayed skier's right when he made his historic descent in 1971. Then it chokes to a narrow, 55-degree rock band that is the crux of the upper route and almost never fills in with snow, forcing skiers to rappel it, as Coombs did in the revealing 2005 film "The Otter Body Experience."
Once through the choke, the route opens up to the namesake Otter Body snowfield before ending in a cliff that would have to be jumped to complete the most daunting portion of the descent. Newcomb estimates the cliff -- located 2,500 vertical feet below the summit -- to be a 50- to 80-foot drop.
"Rick Armstrong used to say that was how he was going to do [the full descent], and people today are way better jumpers than he was," Newcomb said, noting that stomping such a drop would require much heavier ski gear and thus slow the ascent time significantly.
Regardless of which route one chose to descend, the ascent likely would follow the Owen-Spalding route, Newcomb said. He estimated the round trip would last "12 hours for a very fit climber who knew the mountain well," and he said Grand Targhee race coach Brady Johnston could be a candidate.
xgames.com