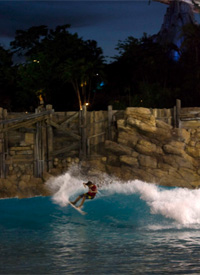 Florida is known in the surfing world for two things -- fierce competitive surfers and small surf. The two aspects run oddly counter to each other, but both played a role in Quiksilver moving its East Coast King of the Groms contest to Typhoon Lagoon at Walt Disney World in 2009.
As Quik's local event organizer, Matt Kechele puts it, "It can be really difficult to get good waves this time of year."
Yeah, summer in Central Florida before the spinners have started coming across the Atlantic is a pretty rough time. But because Quik and Florida put so much stock in pro surfing's future, they pull out all the stops to hold an event in quality surf. Hence, they were back this week for another KOG. "The Disney Typhoon Wave Pool is the perfect solution," adds Kech.
But the big surprise this year was that it wasn't a Florida kid sporting the giant check and big grin at night's end. In the past, it's been dominated by Evan Geiselman. But this year, it was Pat Schmidt, from the unlikely state of New Jersey, who wore the chlorinated crown.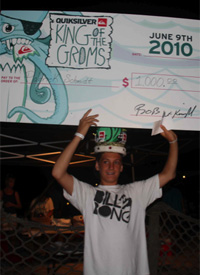 I've watched Schmidt grow up and become a very solid ripper over the past several years. He comes from a great Manasquan surf family, has a nice collection of NSSA and VQS titles behind him, and some solid travel experience. Schmidt won on a massive frontside hack for an event-high 8.61. He even managed to beat out the super-talented Noah Schweizer (brother of Nils) who has some experience with this man-made wave.
"I didn't think it would be that different surfing in freshwater, but it actually was," said Schmidt in the press release, "I'm stoked to get the trip to France in September, and since I'm heading to California for NSSA Nationals and the U.S.A. Championships next, winning the King Of The Groms is definitely a good way to get some momentum going."
In addition, Schmidt will head to France in September for the King of the Groms World Championship at the Quiksilver Pro France. France, however, will have salt in the water.