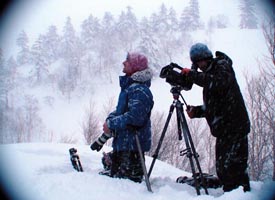 Japanese riders have always had a way with the halfpipe. As a result that's where most have made their name. Podiums are an easy way to get press. But, in the media-fueled coverage of backcountry riding, rare is the Japanese rider who "blew up" out of bounds. That was until Tadashi Fuse appeared on the scene in British Columbia. Fuse quickly made a name for himself internationally and found his way onto film crews like Mack Dawg, Whiteout and Burton.
Never one to slow down, Fuse continues to push his riding farther. Determined to properly document his always-creative backcountry antics Fuse hired a personal filmer and founded his own film production company Heart Films. Their fifth release, Heart Films Vol. 4 showcases a crew of relatively-unknown (at least here in the states) Japanese riders that Fuse more or less took under his wing.
"[Tadashi] wanted to create a bridge for the Japanese riders to get more global exposure, as well as have the ability to expose them to big mountains and backcountry features so their riding could get pushed to the next level," says Fuse's translator and Heart Films business partner Yuho Sekihara. "He hoped that the same bridge could be used for international riders to gain more exposure in Japan as well as have the ability to show the masses what Japan had to offer in regards of deep, light pow, great people and resorts."
But it wasn't the easiest "bridge" to build. Taking to the backcountry by snowmobile the first time can be an exhausting and intimidating experience, with the ratio of getting stuck and digging yourself out to actually getting shots tipped to the former.
"Most of the Japanese riders had never even ridden a snowmobile before they came to Canada so everything was new to them," says Sekihara. "Suddenly the language, the terrain and everything familiar was stripped away and they had to start from scratch -- it's really interesting to see the progression of each rider from Heart Films Vol. 1 to now as they have all worked hard for five years, riding and paying their dues in the backcountry."
The efforts seem to have paid off. Sekihara says that Heart Films has already made an impact on the homeland: "In Japan, most riders ride park and transitions, so to see how much everyone's riding has been influenced by Tadashi's backcountry knowledge and experiences filming in Heart Films through the years is amazing."
After all, as Snoop put it, "It ain't no fun if your homies can't have none." Check out the new film next fall at shops in Canada and online at heartfilms.com.