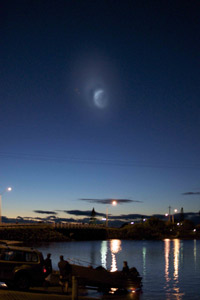 Gold Coast pro surfer, Chris "Ibis" Bennetts drove to South Stradbroke Island early Saturday for a routine wave. He was anticipating a fun surf. He wasn't expecting to see a UFO.
Conditions were prime. It was cloudless, the sunrise was polished and a groomed three-to-four foot groundswell was running. As he was suiting up in the fresh morning air, something peculiar appeared in the sky.
"I looked up and saw this thing like a comet, but it wasn't moving and didn't have a tail," Bennetts explains. "Usually when you see a shooting star it's really bright and it moves super fast then just fades out, but this thing stayed the same brightness with weird misty stuff swirling around it, and it all moved as one.
"It hovered sideways, then dropped down a bit, moved sideways again and sped off towards the horizon, and just disappeared," he said.
Bennetts reckons it was the weirdest thing he's ever seen and admits to almost freaking out. "There were a handful of surfers in the carpark all staring up as if they were hypnotized or something," he says. One of the other guys with him, Noah Lane, thought it was doomsday.
A privately-owned rocket launched from Cape Canaveral in Florida on its first test flight is believed to be responsible. The large bulb of light surrounded by strange mist is said to have been traveling at a speed of 12,500 miles per hour.
But as Doug Moffett from the UFO Research NSW says, "Where was the glow from the boosters or from the friction created by the craft moving through the atmosphere, where was the tail of the rocket? And why would anyone launch a rocket on a maiden test flight with a trajectory that would take it over the most heavily populated parts of Australia?"
ESPN Surfing does not claim to know anything about such matters, but Moffett makes a bit of sense, doesn't he?