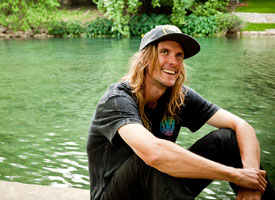 Today Element pro Levi Brown unveiled his first video part as a pro in the web exclusive release of "Trio" You can view the video below. But first, let me just say this: It's awesome. Sure, I'm biased; Levi is a friend and it's been really cool to see his career take off. But I don't think it's biased to write about how good this video part is when it oozes style with every single trick. I know Levi worked hard to get this part right and he should be damn proud of the result. And that result is truly excellent and inspired skateboarding. I caught up with Levi to get his take on the part and what's next for him.
So you've been working on this part for a little over two years right?
Yeah, about two years. Chad [Tim Tim] was like, "Hey, you want to make a video?" And then that just evolved into the Element shoe team video ['Sole"], which was cool. I was really bummed when it got shelved. It was sorta unknown what would happen with all that stuff and all that footage. But that turned into "Trio" and Chad's part came out amazing and he set the bar too freakin' high. I'm like, "Dang it! That's why I wanted the middle part." In a regular video the middle part doesn't have a lot of weight on it. But yeah, Chad did such a great job and "Trio" is turning out to be really cool. I'm happy that "Trio is coming out and everyone can see it.
One thing about a web video is that everyone that wants to can see it, no problem.
Definitely. I know it was different when I was growing up and only a few videos came out each year. So it's a weird adjustment with so many videos and the instant gratification. But after Chad's part came out, and hearing everyone's positive feedback about it, I've been really psyched on it.
I know you've been working away at this video and it's been your main focus. Your "Trio" part just dropped and you you've been making appearances at The Berrics this week as well. Does this mean we'll be seeing a lot more of Levi Brown in the coming months?
Oh, I hope so. I want to keep it going for sure. You're going to see more of me. I'm living in California and even with just that you're automatically in the mix more.
With this project in the can and on the Internets for everyone to see, what's the next thing you're working on?
I don't have anything going right now. I've been going to shoot photos. I just want to keep shooting photos and be in the mix. Something's going to pop up. I can't plan things because something always naturally pops up and I'm always like, "alright, that sounds good. I'll do that." It's hard to go searching for a project. It'll just reveal itself. It'll work out.
I know that what is now the "Trio" video was originally slated to be the "Sole" video for the Element shoe team. Since the shoe team was disbanded what have you been slipping your feet into?
Adidas. I've been loving Adidas. They've been sending me shoes and that's where we're at right now. I'd be more than excited if it went somewhere.
Filming for "Trio," what was the most fun trick you did for the part?
Something came easy the other day, it was nice. It's a frontside flip in my part and it's basically in someone's front yard. The guy who owned the house we were skating in front of was actually really cool with us skating there. But then he left and a cop showed up to kick us out and told us it was illegal to even push on the sidewalk in this city. And we were like, "Okay, but the guy told us we could skate." But then the owner of the house came back and was being super cool, talking to the cop and explaining that it was cool with him that we skate there. And the trick came pretty quick so I was happy.
What about the most difficult?
Yeah, the last trick. It's in Arizona. I tried it a long time before but then Arizona heat kicked in so I just thought I'd get back to it. But then I was gone all last summer. But I was thinking about it for so long. Then I finally went back to try it again and the ditch was flooded. And then we went back again and got kicked out. Then we went back again and it was flooded again. And I was just thinking, "Oh man, I just have to do this." So I'm excited how that worked out. But it was hard in the sense that it took so many times of going back to that spot to get the trick. But it worked out and I'm happy.
What's your favorite memory from filming this part?
It seems like we've been going on so many trips and every one is just blended together into a good time. It's hard to break apart individual sessions and stuff. We have such a good homie crew on the team and so, even our filming missions, it just works out. It really feels like you're just going skating with your friends. The China trip was one of my favorites because it was such an interesting place for one. And the skate spots were amazing. So much fun. I'm spoiled. I love my life. It's hard not to be happy.