Fresh out of surgery, FMX pioneer Mike Metzger is back home after suffering a brutal crash in the jump-ridden hills of Southern Calif.'s Reche Canyon. While filming with FMX cinematographer Jay Schweitzer of Powerband Films for the sixth installment of his popular "On the Pipe" DVD series, the 35-year-old 2002 X Games gold medalist hit the ground after getting off-axis on a backflip over a gigantic 125-foot manmade step up.

"Right now I'm just healing up from breaking my right femur, right elbow and right hand," explained Metzger via text message. When asked if he thinks he'll be able to compete in X Games 16 -- where he's slated to ride Speed and Style -- Metz said, "I'm going to try my ass off! I've got a lot of rehab ahead of me, but I have no intentions of pulling out of X Games!"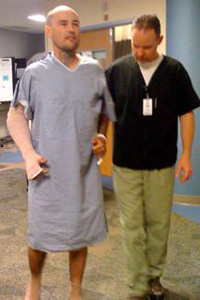 If you're familiar with Metzger, you know he's no stranger to injury and pain -- in fact, this is his fourth broken femur -- he's had two on his left leg and this is the second on his right. And if you're a fan, you also know that he's one of the best when it comes to freeriding. Schweitzer explains, "When you've been filming dirt biking for 13-years like I have, it's hard to keep a constant stoke on the sport. But when I saw Metz flip this 125-foot step up I thought I was dreaming. Metz is the ultimate freerider."

Stay logged on to ESPN.com/Action as more info develops on Metz's quest for X Games gold. To send him a message of encouragement, you can check out his Facebook page, or follow him on Twitter. Heal up Metz! Oh, and check out this insane photo of his elbow during surgery -- not for the faint of heart.