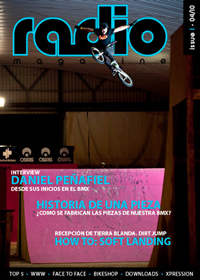 I know the whole "Print vs. Web" has been argued to death at this point, so I'm not going to get into the discussion, but I do want to point out some new magazine options from the international BMX media that have popped up recently. First up is
Radio BMX Magazine
. Radio is an online magazine that focuses on the Spanish scene, and their first issue is now online, featuring interviews with Daniel Penafiel, tons of original photography from the Spanish park, flat and street scenes, product updates and much, much more. The first issue is now online, and even though it's written in Spanish, editor Emilio Guiterrez says, "We think you can enjoy it despite the language because we all share the same independent spirit of BMX." Head on over to the
Radio BMX Magazine site
, click on the cover image and check their inaugural issue.
Now for some print, but not just another magazine. The "Music Issue" of Australia's Rebel Yell Magazine is done, and even though I haven't been able to check out a copy, it looks ridiculous. Moving away from magazine format and into more of a coffee table book style, Rebel Yell's music issue covers any and everything about music and BMX. Clocking in at 200 pages with tons of original photography and clean layouts, I'd highly encourage everyone to search out a copy. Diversity BMX has some links to various pages from the new issue of Rebel Yell, so go check it out.
Meanwhile, in the rest of the BMX magazine world, Dig, Ride, Ride UK, Holeshot, BMX Plus!, Case BMX, Freedom, Soul and Cream BMX all have new issues out. Click on each link to check out highlights from their latest issues. And if I missed any publication mentions, register and comment below to let me know that I'm slacking. Thanks.
xgames.com