This Saturday, April 24, The Big Wave World Tour (BWWT) will crown its first world champion at the Surfing Heritage Foundation in San Clemente, Calif. Like the humble beginnings of pro surfing through the formation of the IPS (predecessor to the ASP) in 1976 and their crowning of Peter Townend as the first world champion, organizers of the BWWT are hoping this is the start of something special. This tour, produced by Rogue Wave Events in partnership with Jim Beam, was a labor of love birthed by legendary shaper Gary Linden and his partner Pierre Camoin. And just like Fred Hemmings and the IPS back in '76, they've done it all on a shoestring budget.
Results for the 2009/2010 season are based upon the Quiksilver Ceremonial Punta de Lobos in Chile, the Billabong Pico Alto Invitational in Peru, the Mavericks Surf Contest in Half Moon Bay, California, and the Todos Santos Big Wave Even" in Ensenada, Baja Norte, Mexico.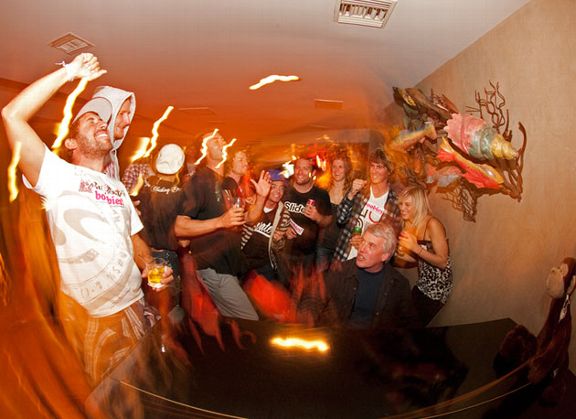 Frontrunners for the crown are as follows: Carlos Burle, who was the only surfer to make the finals of every event; Mark Healey, who won the Todos Santos event and placed 4th in Pico Alto; South African charger Chris Bertish, who won the Maverick's Surf Contest in gigantic surf; South African Grant "Twiggy" Baker, who took top honors at the Ceremonial Punte de Lobos in Chile and placed fifth at Todos Santos and Californian Greg Long, who won the Billabong Pico Alto Invitational in Peru.
Points were gained only by making the finals of each event and those points rewarded were scaled per event by the size of the waves. This system strives to reward the biggest waves ridden at events held in the biggest surf. With Maverick's providing the biggest waves ever paddle surfed, it's safe to say the results are going to be tight.
The 2010/2011 BWWT will be kicking off soon with the holding period for the Quiksilver Ceremonial Punta de Lobos set to begin on May 1st. A Nelscott Reef Contest was also added to the tour. Promoters are also hoping to include The Quiksilver in Memory of Eddie Aikau to the tour as well, for a total of six events. Stay tuned for complete the wrap up.