Eddie Wall has had a wild winter. His world was turned upside down in December when the economy got the better of his DC and Forum/Foursquare contracts. For the first time in a decade Wall was without a video project to pour himself into. But, he had an idea and, as it turns out, so did Pierre Wikberg. The two got to brainstorming and Videohypershred.com was born. I talked to Wall recently about all this. He's a long-winded dude and the interview transcribed out to several thousand words. Here's the whittled-down version of what Wall had to say about...

His sponsorship changes: Well my Forum and DC contracts came to an end at the exact same time. It was pretty much the worst timing as far as the economy goes. Both companies were like, 'Well, we've been wanting you head-to-toe this whole time, but now we pretty much can't even offer you a decent contract.' They were both like, 'Sorry we'd love to keep you on but we just don't have a whole lot of cash for a contract.'

I was stressing out. I was freaking out. I didn't know what was going to happen or what my season was gonna hold and I was definitely kind of in panic mode.

You know how they say some of the best things happen when you just don't have anything to lose? If I had some great film project to work on I'd probably be like, 'I have this sick idea for a Web site and it can totally happen, but it's pretty risky so I'm just gonna stick with the normal thing.' But, when that normal thing went out the window [Pierre and I] were just like, 'Who cares, lets go for it, we got nothing to lose.'

When that normal thing went out the window [Pierre and I] were just like, "Who cares, lets go for it, we got nothing to lose.
The new approach: It used to be if you did a 270 on a gnarly rail, you'd keep that quiet so nobody knew and nobody would try and go do it before the next videos came out, you know. But, nowadays I'm like... if you get a banger trick, throw it up on the Internet right away. Let people see it and be like, 'What the hell?'
People say you can't film gnarly stuff everyday and that's true, but what we do on our down days is pretty funny and interesting too. We'll do videos on oh...'This is what it takes to build a backcountry jump: you got to snowmobile for four hours, Jussi hit a tree with his sled, my truck broke down, you've got to dig forever...' There's all this extra stuff that I think is pretty interesting and I think kids can get a lot out of that. Our site is just a way to get footage out to kids every single day.
The old model: The Internet is taking over -- whether we like it or not -- it's changing. That's just the way it is. Kids want to see what you're doing right now and they want to see it tomorrow. They don't want to wait 10 months.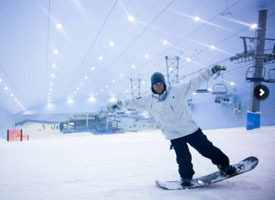 Guys like JP [Walker] and Jeremy [Jones] who are out there getting video parts are insane. Those guys are like the kings at that and I don't want them to think I'm trying to dis that, or that I'm telling guys that are only working on video parts, 'Oh get with the new,' you know what I mean? But, I do feel that it is changing and kids just want to see stuff tomorrow and they don't want to wait.
The plan: We're pretty much starting a production company, along the lines of Robot Food or something. Say for example Jussi Oksanen goes to his sponsors and says, 'I want to film for this movie...'Well, the way I see it, eventually Jussi goes to his sponsor and says, 'Hey I'm going to film for Videohypershred.com.' And then his sponsors says, 'What you're filming for a Web site? What do you mean, where's your video part gonna be? And he says, "Okay, well I can film two minutes of twenty five tricks at the end of eight months in this one video and you can sponsor that video and have your logo at the beginning of it. Or you can sponsor VHS.com and you can have your logo on the site, which will link to their Web site, and that rider will be in our updates every day.
Kids are going to see what I'm doing all season long, not just my 25 tricks at the end of the year. From a companies' [sponsorship] stand point that just seems like a no brainer.
And we also want to make a 10 or 15 minute video at the end of the year that will really look like a snowboard video, you know, all the banger tricks. We've discussed making a DVD, but, we're saying, 'Hey, if we make a DVD we might sell 10,000 copies, but if we just put it on our Web site we might get 50,000 views. So what's the point of even putting it on DVD? Plus, the kids won't have to go to the store to buy it, it's just right there, it's free.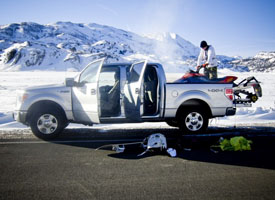 Doing something new: We've both put a lot of time and effort into it and right now we don't have anyone sponsoring the site, so everything, from Web design to Pierre traveling, has been out of pocket. But, the reason we're doing it is because we know something can come out of it. We've already gotten a lot of good feedback. We've definitely got a lot of people interested in it.
I don't know if I want to mention any [names], but yeah we've definitely been talking to some riders. We'll see how it goes. Who knows? I'm really hoping it does well, not even from a business standpoint, but just from lets-keep-things-fresh standpoint.
xgames.com