It's my pleasure to welcome our first POTD contribution from photographer Jared Souney. Since transplanting to the Portland area via Woodward East a few years back, Jared's been super busy shooting away with the local scene up there. If you're savvy with his Twitter, then you're probably no stranger to Souney's work and know what I'm talking about. Whether he's tweeting about his latest photo venture or updating his well-designed site, his work is good. Here's an exclusive shot from his latest venture with Portland's Ben Hucke.

Click anywhere on the photo to enlarge it.

[+] Enlarge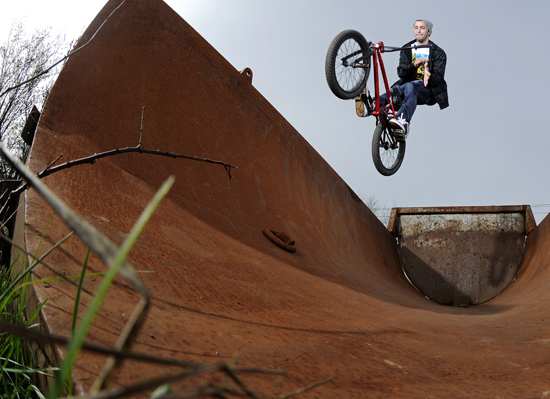 "When you're looking for street spots to photograph, sometimes you've got to go outside of the downtown and metro areas. Sometimes the fun things to ride pop up in the strangest of places, including empty fields. Ben Hucke spends his rainy days driving around finding spots around Portland, and this just happened to be one he drove by all the time, near his sister's house.

I've seen these transitioned dump truck beds before, but this one was just lying on the ground in an empty field (there were even two next to each other) seemingly without an owner. What seemed like a perfect spot, turned out a lot more difficult than we thought, though. If you set your bike straight across inside the truck bed, your wheels are half way up each side— tight transitions are an understatement. We couldn't leave this one empty handed, though. Ben figured out pretty quickly that if he rolled in on one side he had just enough time to do something on the other. And all of a sudden the spot that wasn't really a spot became a spot." -Jared Souney