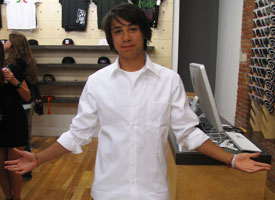 A little over a year ago I headed out to Kansas City to work on a Day in the Life type video with Sean Malto. He was a gracious host and we had a blast skating spots, hanging with his crew and seeing all Kansas City had to offer. This year, Etnies hosted a media weekend event out in KC to celebrate Malto's new pro shoe and all his hard work. When I got the invite, I first thought, "Been there. Done that." But then I reconsidered. Who wouldn't want to spend a weekend skating great spots with a solid crew and one of the nicest and most talented pros on the planet?
Arriving in Kansas City, I was met with a big crew from Etnies and tons of Malto's friends down to celebrate with him. Skaters of note who were lurking in Kansas City over the weekend included Justin Brock, David Reyes, Heath Kirchart, Ernie Torres, Jose Rojo, Mikemo Capaldi, Mikey Taylor, Davis Torgerson, Massimo Cavedoni and of course Malto. It's also worth mentioning that the Kansas City scene has some rippers who are always holding it down. Max Chilean, Joseph Lopez, Ryan Pierce and the rest of the Escapist crew are on the rise as well.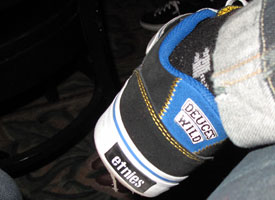 Since this weekend was more of a celebration than a straight-up skate mission, there weren't too many banging tricks thrown in the mix. But some fun sessions were had on a few of the choice spots KC has to offer and a good time was had by all. It's seriously refreshing to see just how different the skate scene is in the Midwest away from the industry and hype of either coast. Kids are skating for fun with much less emphasis on trying to get sponsored but with just as much determination to progress and push their limits. The vibe is about homies and skating and fun. When you're in KC, it's easier to see what's made Malto not just one of the more talented guys to arise in the past few years, but also what's made him one of the most likable ones.
Some random highlights from the weekend: At Gates BBQ the manager, Ms. Williams, downed a bottle of hot sauce for cash and didn't even complain about the food fight our crew had. Etnies Don Brown climbed trees, traded shoes with random bar patrons and was generally awesome. There were many games of SKATE played among the skate industry's writers, photogs and videographers. We biked around the city in a huge posse on Friday night in homage to Malto's bike gang, Deuces Wild and had a blast; Ernie Torres rides a mountain bike as fast and reckless as the way he skates. The grand opening of Escapist's new downtown store turned into an epic party while lowrider cars bounced their shocks out front. Malto never stopped smiling.
A big thanks to Malto and Etnies' Don Brown, Ashton Maxfield and Anika Ramirez as well as Escapist's Nick Owen and Dan Askew for showing everyone a really fun time out there.