It's not every day you hear a photographer say, "That's the sketchiest thing I've ever shot". You know the photo must be something epic, especially if it's coming from a shooter like
Justin Kosman
, who's shooting with some of the best BMXers on the daily. So when I got the email with that comment and
Anthony Napolitan
as the subject, I knew it was an instant POTD. Check it out and see why.
Click anywhere on the photo to view it big.

[+]
Enlarge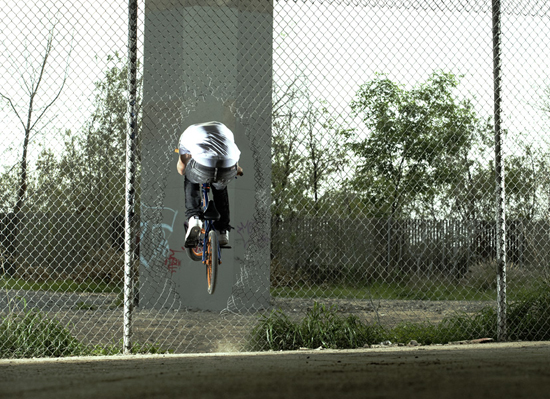 "I think that every photographer has the phrase, "That's the sketchiest thing I've ever shot," on the tip of his tongue. And for the most part, it is always true. Maybe that's how you know you're shooting the right stuff. Here is a shot you won't see too often, Anthony Napolitan tucked up but NOT upside down. We were down in San Diego shooting with
Brian Hunt
and on our way out Anthony wanted to jump through the fence, which is barely bar width. As I pushed the shutter button, I heard his left bar end clip the fence and I thought for sure he had a one way ticket to a gravel sandwich. One and done, that's how we like it."
-Justin Kosman
And incase your itching for some more photos to look at, here's a past Justin Kosman B&W photo gallery.
Converted to Monochrome Gallery