While we have Joli getting us the scoop from Bells, Jake talking story about Seal Beach history, and Daniel Ito tracking down the story of Freddy Pattachia's scathing comments, I have decided it's my duty to keep you informed on your obligations as a surfer.
You have two chances to tip the scales in the favor of surfing justice today. Last week, I reported on the comments that several notable environmental groups made about President Obama's decision to open protected areas to offshore drilling. The Surfrider Foundation has created an Action Alert where you can tell Obama (or at least some Georgetown intern who hopefully tallies all these emails) to reconsider this idea.
The Action Alert states:
"President Obama just recently announced a significant expansion of offshore drilling and exploration. Offshore drilling not only places our environment at risk, it threatens the livelihood of millions of Americans who rely on clean, healthy, oil-free oceans and beaches to support fishing, tourism and other industries."
What I particularly like about Surfrider's angle here is the satirical use of Shepard Fairey's "Hope" image of Obama used in the 2008 election. Fairey had three prints -- HOPE, CHANGE, and PROGRESS. The parody takes the latter and replaces the Obama image with an oil rig, changing "progress" to "regress."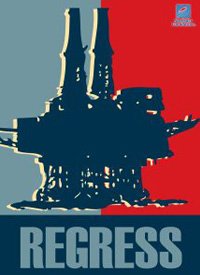 Well played, someone at Surfrider, well played. I'm going to go out on a limb here and stay that many surfers (the ones who vote anyway) and most environmentalists are/were Obama supporters. And while Surfrider doesn't back anyone in a political race, I'm sure at least some of the organization members are supporters of the President, or at least the Change rhetoric. Using the parody of the former symbol is a great way to get attention. No matter your political leanings, offshore drilling is bad news for surfing, as well as fishing and tourism -- two industries that surfers tend to make a living from. Send the message, knucklehead.
The second is the longstanding issue of the Audubon Society suing the National Parks Service over piping plover protection on the Outer Banks. If the "bird lovers" win, public access to the Cape Hatteras Seashore could be drastically hampered. Some of those amazing sandbars are only accessible by off-road vehicle, and the ban would mean you couldn't even walk to those breaks.
What's interesting is that surfers are normally on the same side as enviro groups. Here, they are allied with the local business that thrive on the fishing and off-road vehicle culture. In this case, the Audubon Society is looking to restrict access to protect animals which are rarely endangered in this region by human contact. Off Road Vehicle access is imperative, but might it still seem prudent to error on the side of caution?
Then Matt Walker, Senior Editor of Surfing Magazine and brains behind Surf-first.org, finally said something that many of us were thinking. In his April 1st post at the surf-first blog, he suggested a middle of the road solution, stating:
"Granted, we're no experts, but of them all Alternative C seems to preserve the most possible access to the best surfing areas for the most time, while keeping some common sense ideas in place. (On an island filled with drive-thru beer stores, maybe requiring ORV permits will keep a few drunken yahoos from burying their Escalade in a turtle nest.)"
I've been thinking that last part since the issue first surfaced.
The National Parks Service is about to make a decision on how to handle the plovers/people for the upcoming season. Surf-First presented this link for you to make your voice heard. Also the National Parks Service has the hearing dates listed here.
And even if the oil rigs won't be off Ventura and you've never been to the Outer Banks, it's up to surfers to support one another like we all did with the Save Trestles Campaign
Ok. Back to the frontside hacks and verbal attacks of the surf world. Consider yourself notified.