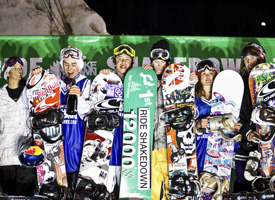 It's well known that the Ride Shakedown has a rich history of one-upping itself year after year, but the 2010 edition will surely go down as one for the books. After its hotly anticipated stateside debut in Washington, the contest returned to its French-Canadian roots this past weekend at Mont Saint-Sauveur, just north of Montreal. Plenty of hammers were dropped, cold ones drained and skin charred as a crowd several thousand deep showed up to welcome the Shakedown back in style.
Never ones to let things grow stale, organizers designed a layout this year that paid homage to the street vibe that has become the Shakedown trademark. A gigantic gap booter led into three jib options: a down-flat-down over a staircase, two jumps into a concrete wallride (doesn't get more legit than that) and a flat rail that dropped into another concrete tranny.
Friday night's main event was the rail jam, which brought out a who's who of jib heavyweights. American Forest Bailey made it immediately obvious that he was looking to take the cake. He was making quick laps, and throwing down serious combos like a clean cab 270-on to 450-out on the flat rail and a nose press 180-out on the kink.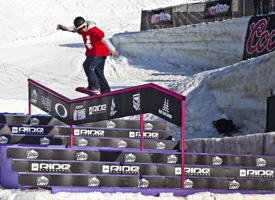 The final four riders -- Forest Bailey and Antonin Chamberlain on the men's side and Marie-Helene Tremblay and Jessica Kimura on the women's -- advanced to a two-run winner-take-all best trick final. Stakes were high, as a cool $5,000 was on the line for the guys and $3,000 for the ladies.
Bailey's first run included a frontside lipslide change-up to frontside boardslide on the kinked rail. Chamberlain answered back with a backside 270 to boardslide. Tremblay came down next with a 50-50 on the kinked rail, but slipped off. Kimura also tried to step to the kink but fell on a frontside lipslide. Bailey came back for a second effort with a 50-50 on top of the wallride and that was that. In the end the judges opted to split the prize money between both of them. Bailey, however, took all of the men's money.
Nothing started on Saturday until the respectful hour of 2 p.m. This allowed plenty of time to shake the cobwebs from the previous night's revelry and ease into the scorching sun. It was as hot as mid-July and the crowd was out in full force, checking the scene, cruising the merch area and watching skate demos go down on the mini ramp.
Semi-finals saw plenty of action with riders going as big as possible to secure a spot in the finals. Zak Stone and Mark McMorris were happily throwing backside 10 double corks, while Seb Toots -- making a fresh comeback from injury -- looked strong with stylish cab 900s. Megan Ginter was stomping back threes while Hana Beaman went for backside 540s.
After the semi-finals wrapped, the Shakedown halftime show got underway. This is always a mind-blowing spectacle as skateboarders session the kinked rail. It's burly enough for snowboarder, so you can imagine how crazy it was to see Thomas Parent take the $2,000 win with a 50-50 to backside 180 out. As the sun was setting the crowd frantically raced for pee breaks, grub runs and beer replacements before finals went down. Likely one of the biggest crowd turnouts in the event's history, even standing room was a scarce commodity.

Likely one of the biggest crowd turnouts in the event's history, even standing room was a scarce commodity.
The Shakedown's riding format is as creative as its setup. Riders can take as many runs as they'd like during the final jam, but only two are judged. They have to call which runs they want judged and name their trick before they drop. This makes for pure entertainment and no doubt one of the reasons the event draws so many riders and fans every year.
The hour-long final turned into a double cork love affair after Zak Stone stomped the first of many and set the precedent. Crowd favorite Seb Toots pulled a bunch of doubles, as did Mark McMorris, who also stomped an impressive switch backside 1080. And true to form, Eric Willet went huge on his frontside double cork.
After debuting at last year's Shakedown, the women's category saw riders upping their game this time around. Alex Duckworth and Lynn Neil both landed backside 360s, but it was Megan Ginter who truly stepped it up with a backside 720. No lady bettered Ginter by night's end and that seven earned her the top spot and 5,000 bucks. And for the men, it was 16-year-old Marc McMorris who took it and 12 Gs.
Shakedown 2010 Finals
Men's Results
1. Mark McMorris -- $12,000
2. Sebastien Toutant -- $3,000
3. Eric Willett -- $2,000
Women's Results
1. Megan Ginter -- $5,000
2. Lynn Neil -- $3,000
3. Alex Duckworth -- $2,000