The old templates hanging from the wall, the aged sanding blocks on a foam-dusty shelf, and a rack of unshaped blanks of varying size and construction. 29,000 boards and counting. A walk through Rich Harbour's board-building operation at 329 Main St. in Seal Beach -- the oldest continuously operating shape room in the country -- isn't just a nostalgic stroll through California surf history, it's the living embodiment.
First picking up a planer in his parent's garage in the late '50s, Harbour has "officially" been shaping boards under his iconic triangle logo since '59, and now to celebrate over 50 years of mowing balsa and foam, is a great new book entitled "Harbour Chronicles: A Life in Surfboard Culture."
From operating one of the first surf shops on the coast, to propelling legendary careers like "Endless Summer" Robert August's, to watching Sean Collins blossom into forecaster-extraordinaire, to ushering in a new era of unique talents such as filmmaker Cyrus Sutton, Harbour and his little shop have stood the test of time. With this book, featuring amazingly cool archival imagery, along with essays by Mike Marshall, C.R. Stecyk III, Steve Pezman and Mitchell De Jarnett, the story is told in its entirety.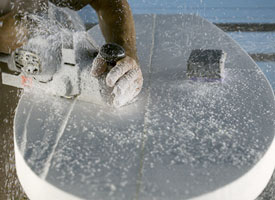 And come this Thursday, at the Orange Coast College Frank M. Doyle Arts Pavilion in Costa Mesa, is the book's official unveiling and signing, plus a nifty little silent auction to benefit The Surfrider Foundation and OCC Frank M. Doyle Arts Pavilion. The auction will feature a special quiver of 'Museum Edition' Surfboards designed by Harbour especially for this show, and will include the sale of a limited edition (the third in a run of only five) 50th Anniversary Harbour Surfboard made of Curly Redwood/Balsa. So, if you're looking for something to do and are keen on getting your hands on a one-of-a-kind board board or two, come on down later this week -- it's for a good cause.
As a side not, this project was made possible by the support of the good people at Honolua Surf Co., so a hearty tip of the hat goes out to them.