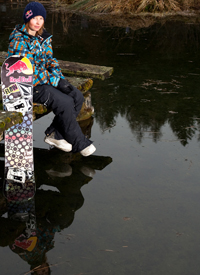 The 6th annual Roxy Chicken Jam is underway at Mammoth Mountain. Word is it's been windy. So says Sarka Pancochova who is there readying for this year's event and decided today was a good down day. Last year she broke her collar bone here. She remembers the jumps being small and weird, and says she's really happy to see they've decided to hold the contest in Main Park, on the bigger tabletops. She's down to send it.
Pancochova has been called "the best overall female rider in the world today," by Pat Bridges editor of Snowboarder Magazine. She rips, there's no doubt about it, but the 19-year old Czech Republic native is new to the contest circus -- this is only her second year competing -- and has only ended up on a couple podiums. She took third place in Slopestyle at the European Open and second place at the Rail Jam at last week's US Open. But, she's been in the mix at all the events and her TTR rankings prove it.
Pancochova is in a position to make some power moves at the Chicken Jam. She's sitting in fourth place on the
Swatch TTR World tour
. That title is being decided this weekend and if Pancochova does what everyone knows she can, she could be a serious threat to the girls --
Enni Rukajärvi
(1st),
Sina Candrian
(2nd) and
Lisa Wiik
(3rd) - - who rank ahead of her.
I caught up with Pancochova about this year's event, how the Chicken Jam compares to other contests, what kind of run she wants to put down and how she'll put the pressure aside to do that.
Espn.com: It's been a busy season for contests and now there's another one coming up this weekend, is it hard to stay motivated to go to all these contests, especially this late in the season?
Sarka Pancochova: Yeah, it can be. Sometimes it's annoying, especially in January, I had four contests in like ten days. But usually it's actually kinda fun at the contests because you're with your friends and everyone's here and just riding together.
How does this contest stack up against others? Is the level of competition any higher than at other events? Well pretty much all these girls that are here are the ones who have been going for the TTR 6-Star events, so the level is really high. It's going to be a really good contest.
How does this year's course compare to last year's? I heard the jumps are a lot bigger, is that a good thing? Last year they built the jumps smaller and really close together so people could watch it easier, but it was kinda ridiculous. The jumps weren't that good. But, this year they've moved the contest into Main Park, so they have all the big jumps in the course, which will be nice. I'm excited for that.

I think maybe I want to win too much. I know I have the tricks and I know I can do them, but maybe it just isn't the right time yet.
Do you think girls-only snowboard contests are good for women's snowboarding? I think it's good, but for me I prefer it when the guys are at a contest too. Then you can see all their tricks and maybe they'll inspire you. But, this year girls have been getting better and you can really see how they're progressing.
Which girls are you most impressed with right now? I think Jamie Anderson is definitely trying to progress a lot. We've been riding a lot together this winter. It's been fun, but also so dangerous, someone is always getting something, but we're also getting scared a lot too, which is good. It's been a lot of fun.
And besides Jamie, who do you think will be the contenders at the Chicken Jam? Janna Meyen-Weatherby is riding really good. She's got some technical tricks like the cab 900. And Spencer O'Brien and Jenny Jones could do well too, so you never really know.
You're openly critical of the level of riding in women's snowboarding and have said girls need to step it up and really start progressing? Are you encouraged with what you've seen this year? Yeah, I think slopestyle riding has gotten so much better this year. It's exciting to see all the girls riding good and it's cool it's progressing. And yeah, I'm excited to be pushing it too.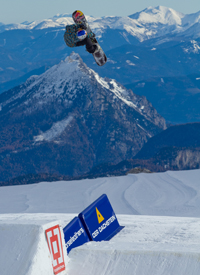 What tricks can we expect to see from you at this event? Do you have a 900? I would love to do my backside rodeo and my frontside and backside sevens. Yeah... I can do backside nines, but... I can't land them all the time, so I don't know if I'll try that.
You've been called one of the best women snowboarders, but haven't podiumed very often, do you have a hard time riding your best in competitions? I don't know, maybe. I think maybe I want to win too much. I know I have the tricks and I know I can do them, but maybe it just isn't the right time yet. I'm just gonna wait for the right time; it's only my second year competing so... I guess I still need some experience.
How much pressure do you feel at these contests and how do you deal with it? There is always pressure, because you know people are saying, 'Ah, Sarka is here,' and they're expecting me to do good, and I'm trying to do good, but sometimes it's just not working. I guess I should just ride for myself and I think then it'll work. I'm just gonna try to have fun and see how it goes.
xgames.com