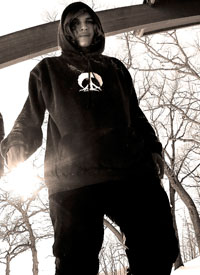 Keegan Valaika
kills it on a snowboard. At just 20 years old, this Laguna Beach local has already proven his worth with an enviable number of heavy video parts filmed by the likes of
Absinthe
,
Burton
and
BozWreck
. The kid can jump (and land) in powder and he punishes snow-covered streets. But, now Valaika is trying his hand at the business of snowboarding. His new clothing brand
Gnarly
is in its infancy, but they've got a
team
, a
blog
and the buzz is building. Here's what Valaika has to say about how it all started, what he hopes to create and why sometimes he's embarrassed for snowboarding.
Espn.com: What's the story behind Gnarly? Keegan Valaika: It started as something me and my friends from Laguna would write on all our s--- growing up. Kinda an inside joke I guess. We were just sitting bored at my house one day drawing on t-shirts and we ended up with this one that had a goofy rollerblader in all neon s--t doing some hilarious spread eagle or something and it said 'Gnarly' next to it. It was funny as h--- at the time and my friend Max ran that shirt until it was completely thrashed. So I guess the clothing was something that's always been around and then just recently we kind of decided to actually take a crack at selling the stuff.
What's in the name? We're just trying to have fun with this company. I think more than anything we've just always thought that 'gnarly' was a really funny word. The last thing we wanted to do was over think naming this company and trying to come up with some super marketable and artsy name. At the end of the day though, it's a lot more about the actual clothing and people behind the brand than anything else.

We're embarrassed because of all the lame stuff that's wearing the 'snowboard company' tag these days...It's not football, it's snowboarding.
In the Gnarly mission statement it says "as embarrassed as we are about being a part of it..." Who's the we, what's the it and why the embarrassment? The we, is everyone involved in Gnarly. The it is the vast majority of what snowboarding is these days... and we're embarrassed because of all the lame stuff that's wearing the 'snowboard company' tag these days. There are a s--- load of those companies out there calling themselves snowboard companies when really half the people who work there probably don't even snowboard. Even if they do snowboard, they definitely don't see snowboarding the same way we do. It's not football, it's snowboarding.
Who else is helping to get Gnarly going? Everyone. That's the best part. Everyone on the team is helping as well as Jon Francis who's kind of overseeing things on the business end.
Who would wear Gnarly clothing? Anyone who's not too cool to laugh at themselves every once in a while, and understands what we're trying to do.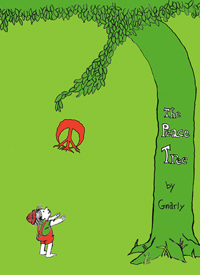 And what kind of brand do you hope to create? I guess a snowboard brand? I don't really know man, I guess we just want to bring a little bit of comic relief into snowboarding and clothing brands in general. It seems like going into snowboard shops you can't really find any good clothes to buy anymore, and that sucks. There's so much shit out there that's overdone, and way to serious. This industry is supposed to be fun, and a lot of the corporate companies are taking that away, so our goal is to bring that back. Like OG snowboarding. We just want to keep it simple and quality. I wouldn't plan on seeing any studded pre-ripped t-shirts coming from us any time soon.
Check out Active's web site for a look at the first batch of Gnarly offerings. The next line drops June 1st.
xgames.com