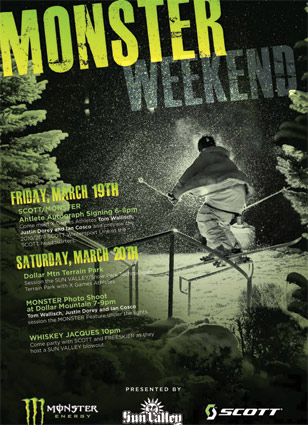 Going to be around the State of Idaho this weekend? A fan of, or even maybe a participant in, freestyle skiing? Well Sun Valley is the place for you to be.
Monster Week, brought to you this Friday and Saturday, March 19 and 20 by Sun Valley Ski Resort, Scott USA, and Monster Stimulant Delivery Systems, is your chance to meet, greet, and ski with Tom Wallisch, Justin Dorey, and Ian Cosco.
Friday is a poster signing from 6:00 p.m. to 8:00 p.m. at the Scott Headquarters, located at 110 Lindsay Circle in Ketchum.
And then Saturday is the main event. Session the Dollar Mountain Terrain Park all day with Dorey, Wallisch, and Cosco while they warm up for the Monster Photo Shoot which will take place from 7:00 p.m. to 9:00 p.m. After that it's straight to the after party at the legendary Downtown Sun Valley tavern, Whiskey Jacques.
And after that, it's probably a good idea to take a cab home and get some rest. There's been a little bug going around, and you don't want to end up getting sick right before Spring Break.