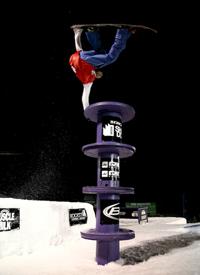 Want weather? Plan an event. The Ride Shakedown confirmed that old adage today at the Summit at Snoqualmie. After weeks of dry weather in the NW, Mother Nature finally decided to dump on the Cascades, and of course it came just in time for the Shakedown. But, despite less-than-stellar conditions the contest went off. And so did the riders.
The ams were the first to feel out the course -- a 55-foot table that lead into an island of rails -- and it was instantly obvious that speed was going to be an issue in the soupy Washington snow. The Cascade concrete slowly set as the dudes lapped the line and it wasn't long before they were finding the speed they needed to let loose. Some two dozen local shreds had at it for two hours trying to earn one of the three spots in the final.
In the end it was Colin Clarke (3rd), Tanner Davidson (2nd), and Manuel Diaz (1st) that got the nod and will get to go against all the other invited riders in Saturday night's final.
After qualies came the rail jam, which was some kinda show. With a field of heavy rail dougies and all kinds of loot on the line, everyone was getting after it and one-upping each other all night. The set-up itself -- a cable-spool pillar, donkey-dong down bar, and a close-out flat rail -- was gnarlier than it looked. Tech would be the best word to describe the features. And unfortunately these highly technical contraptions took out quite a few riders. Ski patrol had their hands full.
Those that stood standing had to work hard to stand out. 270s were mandatory. It took getting inverted on the pillar to get noticed. And a plain pop-out wouldn't win any points on the close-out. Simply put: it was a progressive night of rail riding.
After two hours of jamming the riders were judged (by Pat McCarthy, Peter Line and Etienne Gilbert) and three men and two women advanced to the final. Austin Hironaka, Sam Hulbert and Forest Bailey got in for the guys and Izzy Lalive and Megan Whiteside were the girls that went. For the finals, each of them got three goes. Best trick won. Most opted for the down bar. Hironaka, however, took it to the pillar, popped a Miller Flip tail grab, stomped 'er clean and won it. Lalive put down a proper 50-50 to front 180 out and a switch boardslide to beat Whiteside.
That was it and those two were several G's richer. Not a bad night's work. And not a bad debut for the the Shakedown in the states. Sure, it didn't draw the crowds it has out in Eastern Canada, but everyone in attendance -- both spectators and contestants -- seemed stoked on how day one shook out. If you've got competitors that are hyped you're obviously doing something right. Says Hironaka: "I really like the format here, it's just like a big jam, it's just homies and jammin'. It's really mellow and it doesn't feel like a contest."
xgames.com