As one of the slushiest Winter Games on record (the Vancouver half, at least) wrapped up, Olympic organizers, and watchdogs were already looking ahead to 2014 with some anxious premonitions.
The Olympics are no cheap undertaking and Olympic host countries put a ton of money into upgrades and infrastructure. Russia has committed some 12 billion dollars to transform Russia's Sochi, and Kransnya Polyana for the 2014 Winter Games. These venues, the snowboarding and not to mention the environment in this remote and rural area might not look the same four years from now.
While most of the mainstream Olympic audience probably hasn't heard of this Russian winter hot spot, snowboarders have been hitting the region up for years now -- Mack Dawg Productions' From ___ With Love featured Krasnya Polyana, big mountain Jeremy Jones hit the resort up that same year with TGR, and Snowboarder Magazine, TransWorld SNOWboarding, and Whitelines, among others have covered it in print. Not to mention Russian Prime Minister Vladimir Putin loves skiing there.
As we witnessed this year, though, great snowboarding terrain does not necessarily equate to a great Olympic venue. The remote and un-developed nature of Krasnya Polyana -- with its eight rickety surface lifts, scant housing, and an official website that is only displayed in Russian -- might be great for snowboard film crews looking for pristine backcountry shots, but it's not so hot as a host city (er...town) for, well, the world.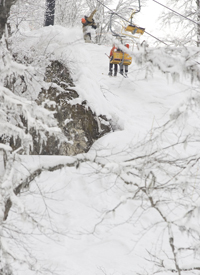 Environmental complications began almost as soon as Russia won the bid to host the 2014 Winter Games, with concerns that construction would impinge on a nearby UNESCO World Nature Heritage site. The Russian World Wildlife Federation took up the issue and instead of simply protesting, moved to become an active partner in the development. But as of the Vancouver Games, the WWF claims their input is being ignored by Olympstroi, the company responsible for Olympic construction.
Added to that is the "can they do it in time?" specter that most Olympic hosts are shouldered with when throwing up massive amounts of infrastructure, relatively quickly. Then, there's also the potentially explosive conflicts close by, throughout the Caucasus Mountains.
Despite all these difficulties, odds are Russia will be ready come 2014. Considering Russian President Dmitry Medvedev's recent outrage over his countries' lack luster performance in Vancouver, you can bet that the Winter Games in Sochi will have a lot of people with money and influence pulling every string they've got.
If Medvedev, Putin, and the Russian Olympic committee get their way (and we can't imagine any reason why they wouldn't), in four years the residents of Sochi and Krasnya Polyana might find themselves living in a glitzed out Euro-chic resort, with all the problems of rural existence swept neatly under the rug.