I'm finally getting around to mentioning some news worthy happenings you need to know about. First off, the date is edging closer and closer for Ricardo Laguna's annual 2010 Extreme Thing contest, that takes place at the end of this month. Ricardo sent over the above 3D overview of what the layout will look like this year. It features a 30-ft roll in! The Pro BMX Dirt Challenge will go down on Saturday, March 27th at 11am in Vegas. Check out www.extremething.com for full details and catch a video of Ricardo Laguna after the jump. I've also got some important video premiers to mention, including Bone Deth's new video premiere party in Portland, so hit the read more tab.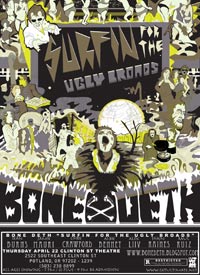 Bone Deth
has just finished up their latest full length video titled, "Surfin' for the Ugly Broads" and is having a premiere in Portland, Thursday April 22nd. Click the flyer to fully view the location and times. As you can imagine with the Bone Deth crew, viewer discretion is advised.
Dean Dickinson
was stoked to tell me that the video also features a Team Shralp section. Aside from the Bone Deth feature, a mini BMX documentary on Burnside will open up the show, presented by Dean Burrito, including interviews with
Shad Johnson
,
Rich Hirsch
,
Bruce Crisman
and
John Bristol
. Sounds like an epic time! For more info check out:
Also, Deluxe is premiering their first full-length video, "Welcome to Deluxe" Saturday 20th March in the UK. The place is The Hamptons which is at 180 above Bar Street, in Southampton. I was told there will also be a premiere in the states at Ray's skatepark here in Cleveland. We'll keep you posted as more info comes in. Enjoy the trailer.