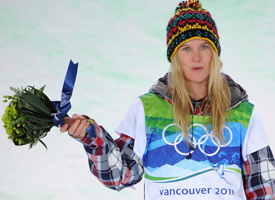 She may be basking in the international spotlight of the Olympics and the glare of her shiny new Silver Medal, but going into Vancouver, Hannah Teter garnered attention for an off-snow power move: an appearance in this year's Sports Illustrated Swimsuit Issue. Anyone who knows Teter knows she's got a constant twinkle in her eye and a devil-may-care attitude when it comes to adventure. But still, the idea of Vermont's favorite syrup-sipper posing in a Whistler Blackomb Peak-2-Peak gondola certainly would have sounded crazy to some.
Teter appears in print and online as part of the "Olympic Stars" section of the Swimsuit Issue, where she is joined by alpine skier Lindsey Vonn, fellow snowboarder Claire Bidez and freestyle skier Lacy Schnoor. We caught up with the Teters (yes, older bro Amen had a say in the matter) in the midst of the Olympic craze to talk about how the shoot went down. Turns out, Hannah has a new line of undies to boot!
ESPN.com: Hannah, how did the opportunity to be in the SI Swimsuit Issue come about?
Hannah Teter: Their people called my people. I dismissed it at first, then I thought 'Hey, that might be fun.'
Do you get paid for doing it or is it PR?
I did it because I like trying new things and thought it would be fun. The money went to my charity.
How did it feel to be photographed in your skivvies? It's a far cry from your average shred shoot ... were you comfortable? Nervous?
The photographers and crew did a great job of helping me have fun and feel comfortable. The cold was the only hard part. Plus, I was excited to be there ... I love new experiences.
What did the photog, Warwick Saint, do to help you get comfortable?
[He] kept my attention, made it playful and gave lots of positive feedback. I had a blast!
How do you feel about the way the photos came out?
Overall I'm really happy with the pictures and the whole experience.
The pics turned out great, but you know how the snowboard world is ... What kind of reaction have you gotten? Have you heard any smart alec bro brah comments?
The only comments I've heard have been supportive and flattering.
Do you think this kind of thing is good for snowboarding?
I think fun and free are at the heart of snowboarding ... and life. Anything that makes you feel alive and doesn't hurt anyone is good in my book.

I think fun and free are at the heart of snowboarding...and life. Anything that makes you feel alive and doesn't hurt anyone is good in my book.
If Maxim or, ahem, Playboy calls next, what's your answer going to be?
I wasn't even planning on Sports Illustrated. I like to take life one day at a time.
Did the shoot provide inspiration for your new line of underwear?
We had this idea to sell underwear to raise money for charity and start this cool fun brand that encouraged giving back as a way of life. We had a couple pairs of samples in time for the shoot and the editors were stoked to shoot me in them and put them in the issue. We actually moved up our brand release so we could launch with the release of the issue with me wearing them in the mag. Readers should go find the photo in the issue and grab a pair of your own at sweetcheekspanties.com. We'll be launching a new sweet pair every month.
Amen, would you say you are protective of Hannah? What did you think of the request to be in the SI Swimsuit Issue? Did you encourage it or try to talk her out of it?
Amen Teter: Elijah, Abe, and I are pretty protective of Hannah. SI reached out to Burton to see if Hannah was interested. When they came to me about it, I wasn't sure what to think, but when I saw how excited Hannah was about being asked to take part, I knew it would end up being a good thing for her.
What do you think of the way it came out? Have you had to punch anyone in the face for looking too long?
I thought the shots turned out great. I was at the shoot with her. I'll admit it was a bit awkward at first. She's never done that type of thing before and there she is that first morning surrounded by a huge photography crew with cameras and lights, asking her to lay a certain way in her underwear. I felt like punching those guys in the face at first, but she just snapped into the zone and had this amazing confidence about her. I was really proud of her.