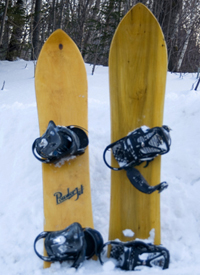 What do you really need to snowboard? Not a question most riders stop to consider, but these days the list might stretch a mile long and include manicured terrain parks, 1080s, and the latest, high-tech snowboards.
Down in southern Vermont, Jesse Loomis, former TransWorld staff photographer that's documented plenty of standard-setting riding, is pairing this list down to the bare minimum. And as I discovered recently, the results of this minimalist re-invention are both impressive and freeing.
In his own shop, Loomis has been pressing retro-inspired, forward-thinking wood snowboards, called Powder Jets. No edges, no p-tex, no carbon-fiber-metal hollowed core laminates. Using a custom press, layers of maple and poplar wood, a few strips of fiberglass, and finishing it off with a coat of urethane, Loomis' Powder jets have none of the "tech," but all the purpose and precision of the best backcountry-specific snowboards.
On a sunny February day, at a backcountry location in Northern Vermont, Loomis handed me a fresh-off-the press Powder Jet to try. The rest of my kit -- boots and bindings -- was the same, but under my feet the actually quite short (for me) 151-sized board looked frankly funny. But on that first drop and subsequent turns, a deep, modern sidecut, paired with a majorly set-back stance and a V-notched swallow tail give the board a perfectly balanced float and a loose driving turn that I can only equate to surfing.
After a fast hike back up, I took the wooden craft off the best "cornice" drop I've had the privilege to ride in Vermont. Sending it a good distance (for the location), I landed and hit a serious snow bulge with my weight forward, and was certain I was going to tomahawk the rest of the hill. But the long nose buoyed me right back up -- I aired off the bump instead, and landed clean, neatly avoiding karate-chopping the snow with my head.
After a few more laps and "bottom turns" on the tree-cum shred stick, I sat down with Loomis to get the scoop on why going back might be better for the future.
When/how did you conceive of building your own snowboards?
I've been snowboarding for about 23 years, and have ridden a lot of the best places in the country. I have a wife and three kids now, and I live in Vermont, where the winters can be great but are generally marginal. At the beginning of the 07/08 season when it was still bulletproof, man-made landing strips all over the mountain, I reflected back on the days of my youth, when I first attempted snowboarding on the big hill behind my folks' house. In my memory it was always dumping snow, super quiet, no one around to impress. I had a Burton Elite 150, and I remember I could never make it do what I wanted it to do.
So when we finally got a bit of early season snow, I dug out the old Elite, which I've never gotten rid of. It has literally 5 inches of swallowtail behind your back foot, and 3 feet of nose, so the first thing it wanted to do was turn its nose uphill and bury its tail in the snow. But now, with 20+ years of riding behind me, I was able to fight it, and wrestle the nose downhill. Once I got her headed correctly it was amazing. It wanted to turn on a dime, even though there was practically no discernible sidecut. I made a bunch of runs, and had tons of fun -- definitely the most fun I'd ever had on that board.

Play in the back yard with the kids; make it quiet, remove the fashion, remove the stress. It's just snowboarding, right?
That's when I realized that space-age technology wasn't increasing my enjoyment of the sport. I thought I'd just bring it right back to the fundamentals, get rid of all the technological geekiness, just take a step sideways and make it fun again. Play in the back yard with the kids; make it quiet, remove the fashion, remove the stress. It's just snowboarding, right?
How was the first run on your own first board?
I'd worked on it for a month, and took it out the first time on Obama's inauguration day, and it rode so well that I laughed my ass off for three consecutive knee-deep powder runs. All I remember thinking was "Holy s---, it actually works exactly like I imagined it would!"
What were the conditions or elements you wanted to include/exclude in the boards?
My idea was to see how simple a snowboard could be, yet still perform the way we expect a modern board to ride. I decided to build a wooden snowboard based on the shape of that Elite 150, but with a modern sidecut. The original Burtons were essentially bent up pieces of plywood, and half a generation of snowboarders had a blast riding them. I felt like I could do away with a lot of the technical hoo-ha and still make a board that shredded, maybe better than most "powder boards."
They are all wood, so minimalism seems like a part of it...
I wanted to get away from plastic and high-VOC chemical adhesives. It couldn't be crazy stiff like a big skateboard, so fewer sheets of laminate needed to be used, which means I had to keep the fiberglass in the mix, to keep it together and add some snap. I felt that edges were absolutely unnecessary for powder riding, and could actually be a liability in that, at least in Vermont; you're always paranoid about bashing into some buried granite and ripping off your edge -- that concern is gone, and if you tear off a corner of your wooden snowboard, you can always patch it with some 5-minute epoxy. The p-tex is gone, because that was a lot of plastic right there.
You mentioned riding in the trees -- for those who don't know, could you describe how the experience is different in VT than out west?
Tree riding in Vermont is basically diabolical. The trees are super close together, which is obstacle number one. Then you've got all the tiny little saplings that whip at your face and choke up the terrain. There's often relatively thin snow cover, which means you've always got to be aware of suspicious lumps which may conceal jagged rocks or submerged logs. There are a bunch of cool cliffs you can drop, especially up on Mt Mansfield, but you've got almost no margin for error on your landing. It's always land, point it straight for 5-10 yards, then turn hard to avoid wooden doom. Basically, when tree riding in VT you need to be on point.
So how did that influence your designs?
The boards we're making are meant to deal with that. They're short, with a pretty wide nose, which keeps you floating up on top of the snow. The nose is way longer than the tail, so you can lean forward in powder and not submerge your nose. The rocker shape is a no-brainer for powder. The two final aspects, the concave tail and deep sidecut, mated with the ability to stand tall on your front foot, make it possible to carve incredibly quick turns, crucial in sketchy situations. It feels like no snowboard I've ever ridden, but in a good way -- the tail is loosey-goosey like a surfboard, and it turns super quick like your vintage slalom skateboard.
What were the inspirations? You mentioned your Elite 150...
I was inspired by all kinds of boards. The Burton Fish is a really fun dedicated powder board. My mid-80's Elite 150 is also fun in it's way, and was the inspiration for the concave and notched swallowtail. The Mervin Banana Tech and Magne traction boards made me realize that snowboard evolution is not over, which was HUGELY influential.
Just when it was starting to seem like everyone was making nothing but a rainbow assortment of park boards in slightly different lengths and flex patterns, Mervin brought out those radically different shapes. I thought that signified a sea change in snowboard design, kind of like all bets are off. Travis Rice's Banana Hammock snowboard, with its reverse sidecut, seems totally counter-intuitive at first glance, but obviously works really well. I loved that Mervin had basically turned the basic snowboard design inside out.
Can you run down the actual construction tech, if it's not top-secret?
Construction tech is evolving, but here are some constants: The blank Maple and Poplar laminates are cut out on a local CNC router. We lay up 5 laminates with two sheets of triaxial fiberglass, place the inserts in their spots, and slather every sheet with low VOC Epoxy Resin. Then we apply pressure and heat for 16 to 20 hours. For the finish we're using a super strong maritime Urethane.

It feels like no snowboard I've ever ridden, but in a good way -- the tail is loosey-goosey like a surfboard, and it turns super quick like your vintage slalom skateboard.
What are your plans for the rest of 2010 and next winter with Powder Jets?
We're working on new shapes, and looking into more materials. I love the edgeless wooden boards, and we're always going to keep building them. At the same time, we can't just stubbornly cling to one shape and construction method. I've got some metal edges that are all ready to be mounted onto a wooden based board, which I think is going to look pretty hot. I'm looking forward to riding a wooden board that I can turn on hardpack. We're working on a longer board with a turned up tail. We're taking a look at recycled p-tex. We're moving to a new shop. Stuff's basically going down.