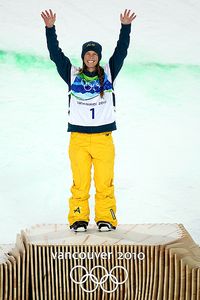 WEST VANCOUVER, British Columbia -- A few hours before women's halfpipe finals, while the sun was still shining and the temps were pushing springtime, Torah Bright's fiancé, Jake Welch, had an idea.
He trekked the more than 200 stairs leading to and from the spectator section, found a few buckets of red latex paint in a shed at the bottom of Cypress Mountain, and recruited a few of his family members to donate their chests in the name of national pride.
"They did it in Torino, so I guess we should have expected a repeat performance here," said Ben Bright, Torah's older brother and coach.
Full story »
xgames.com